Belles Finish Twentieth at Oberlin
OBERLIN, Ohio - The Saint Mary's cross country team finished twentieth out of a field of 40 teams at the Oberlin Inter-Regional Rumble on Saturday.
Fifth-ranked Geneseo State won the race with a team score of 54. Oneonta, who is ranked twelfth nationally, claimed second with a 125, and host and seventh-ranked Oberlin was third with a team score of 148. Each team finishing in the top eight at the race is either ranked in the top 35 or is receiving votes in the top 35 ranking by the USTFCCCA.
The Belles finished twentieth with a team score of 579. Brittany Beeler led the way for Saint Mary's by finishing 34th in a field of over 300 runners with a time of 23:15.6. Natalie Hawkes posted a 24:39.8 to finish 126th overall and earn 117 points for the team.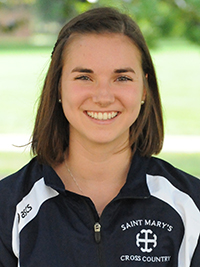 Allie Danhof ran a 24:56.9 as the
Belles' third finisher.Allie Danhof, Kathryn Marshall, and Samee Chittenden all finished within 13 seconds of one another to wrap up the team score. Danhof had a 24:56.9 to finish 151st (138 points). Marshall ran a 24:58.6 for 153rd place (140 points). Chittenden crossed the finish line in 25:09.9 for 166th (150 points).
Katelyn Dunn ran a 25:16.0 to finish 181st, and Kaitlyn Alessi had a 25:40.8 for 212th place. Caitlin Blum finished in 25:52.5 for 221st, and Colleen Ogren ran a 26:28.0 for 247th in the varsity race.
With the number of entries capped at for the varsity race, several members of the team ran in the open 6k race later in the day. Anna McClowry had a time of 25:44.4 to finish 43rd among the open race competitors. Colleen Burke and Maggie Pacana finished back-to-back with times of 27:02.2 and 27:03.6 for 83rd and 84th, respectively. Alyssa Furman turned in a 30:27.3 for 126th in the open race.
The Belles have two weeks to prepare for the MIAA Championship race, which will be held at Calvin on Saturday, November 1 starting with the men's race at 11:00 a.m.