Belles Take Fifteenth at Knight Invitational
Belles finish 15th out of 25, less than 10 points away from 12th place
Brittany Beeler, Kaitlyn Alessi, Anna McClowry, and Maggie Pacana earned collegiate PRs
Alessi and McClowry each improved their PRs by 20+ seconds
GRAND RAPIDS, Mich. - The Saint Mary's cross country team claimed 15th place in a field of 25 teams and more than 200 runners at the Calvin Knight Invitational on Saturday.
NAIA No. 4 ranked Aquinas won the team title with a score of 78. Host and No. 8 ranked Calvin was second with a 115, and No. 9 ranked Hope was third with a 123. The Belles scored a 370 and were just four points behind 14th place Alma, seven points back of 13th place Madonna, and eight points off of 12th place Huntington.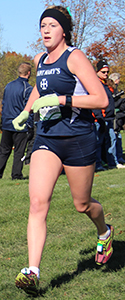 Kaitlyn Alessi had a
big PR on Saturday.Brittany Beeler led the Belles with a 30th place finish in a time of 19:03.4 for a new collegiate 5k personal record time. Aubrey Penn finished 68th overall with a 19:47.9. Allie Danhof crossed the finish line 82nd in 20:05.2 for the Belles. Adele Edmonds and Kaitlyn Alessi wrapped up the team scoring finishes with 93rd (20:14.9) and 97th (20:20.0), respectively. Alessi's time was nearly a 25-second improvement upon her collegiate 5k PR - a 20:44.9 at the Calvin Invite her freshman season.
Katelyn Dunn and Mary Philbin were not far behind the pack. Dunn ran a 20:29.6 to finish 101st, and Philbin crossed the line in 20:37.7 for 105th. Emily Harrast and Colleen Ogren finished within a second of one another with times of 20:59.8 and 21:00.3, respectively. Anna McClowry had a collegiate 5k PR with a 21:03.8 for a 23-second improvement upon her time at the same race a season ago.
Caitlin Blum crossed the finish line in a time of 21:23.1 while Meghan Allen was the Belles' 12th finisher with a 21:31.8. Kathryn Marshall ran a 21:37.0, and Colleen Burke was right behind her with a 21:39.0. Maggie Pacana put together the Belles' fourth PR of the day with a 21:45.4 to cut her best 5k time by nine seconds. Sarah Allen rounded out the Saint Mary's efforts on the day with a 22:11.6.
The Belles compete next on Friday, September 18 at the Spartan Invitational hosted by Michigan State University.