Belles Narrowly Miss Top Four Finish at MIAA Jamboree
Brittany Beeler led the team with a 13th place finish.
Allie Dahnof, Aubrey Penn, Adele Edmonds, and Colleen Ogren also scored for the Belles.
Each of the team's first-year runners cut time off last week's 6k times.
HOLLAND, Mich. - A difference of four points separated the Saint Mary's cross country team and Albion for fourth place at the MIAA Jamboree at the West Ottawa Golf Club.
The Belles had a team score of 136 while Albion had a 132 for fourth place. No. 8 nationally-ranked Hope won the event with a team score of 26 while No. 9 ranked Calvin took second with a 49. Trine placed third with a 108.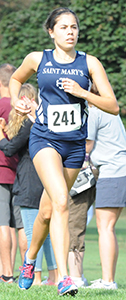 Brittany BeelerBrittany Beeler was at the front of the pack early and stayed near the leaders throughout the race as the junior finished 13th overall in a time of 23:07.5. Allie Danhof and Aubrey Penn finished within a few seconds of one another to help the Belles' team scoring. Danhof ran a nearly identical time from her 2013 PR at the same course in the MIAA Championship during her sophomore season as she posted a 24:03.3 to finish 26th. Penn improved her 6k time from last week by 48 seconds with a 24:15.8 for 29th place.
Adele Edmonds and Colleen Ogren were nearly back-to-back finishers for Saint Mary's to round out the team scoring. Edmonds ran 33 seconds faster than last week's 6k race with a 24:32.1 for 33rd place. Ogren finished the course in 24:37.2 for 35th while finishing in the top five for the Belles for the first time in her career.
Kaitlyn Alessi and Anna McClowry were neck-and-neck down the stretch for the Belles. Alessi posted a 24:47.6 to finish 36th, and McClowry was 38th while finishing within a second of her PR for a 6k race with a 24:50.6.
Sarah Allen was 52nd overall and broke the 25-minute mark with a 24:59.6 - a one minute, 38-second improvement from last week's 6k race time. Mary Philbin and Caitlin Blum were back-to-back finishers on the day with 58th and 59th place finishes, respectively. Philbin ran a 25:04.5 to cut a 1:18 off her 6k time from a week ago while Blum crossed the line in 25:09.7.
Emily Harrast was not far behind Allen and Blum as the freshman posted a 25:16.8 for 62nd. The time was 1:05 faster than last week's 6k at the Spartan Invitational. Katelyn Dunn ran a 25:34.8 for 69th place overall.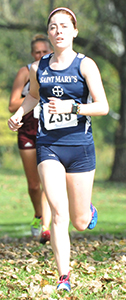 Meghan AllenMeghan Allen was the next finisher of the race with a 25:47.8 for 70th. Allen took more than two minutes off last week's time of 28:03 for the largest time improvement for the Belles. Kathryn Marshall crossed the line a fraction of a second behind and was narrowly edged out of 71st place with a 72nd place finish in 25:48.0.
Maggie Pacana was less than seven seconds behind Marshall with a 25:54.3 for 75th. Colleen Burke had a strong finish down the chute to wrap up the team efforts on the day as the senior was 81st with a 26:15.4.
The Belles have a break from competition next weekend and return to racing on Friday, October 9 when they travel to the Benedictine Invitational.