Department of Social Work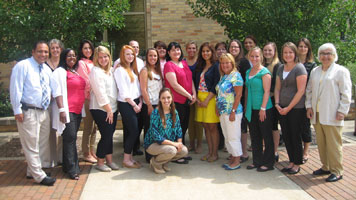 Class of 2014

Do you want to develop a greater sensitivity to and appreciation of the diversity of being human? Would you like to provide professional social services or intellectual expertise to help others live a more satisfying life? With an undergraduate degree in Social Work from SMC, completion of an MSW through advanced standing, and one year of professional social work experience in a medical or psychiatric setting, you would qualify for over 178 Social Work jobs currently listed on the Veteran's Administration website! Also, an interesting and informative article from the New York Times looking at the future of jobs for women in America can be found here.
Accreditation
The Social Work Program at Saint Mary's College is accredited by the Council on Social Work Education (CSWE).

The Saint Mary's College Social Work Program received a perfect re-accreditation from the Council on Social Work Education in June, 2011.

CSWE Assessments
---
Mission Statement
Recognizing the pioneering tradition of Saint Mary's College to educate women to lead and make a difference in the world, the Department of Social Work prepares students for generalist social work practice and graduate study. Through classroom and field learning opportunities, students develop the interpersonal, research, and critical thinking skills which underline effective social work intervention. These skills are translated into meaningful action through a multi-level understanding of the pluralistic and diverse nature of the social environment. With a firm grounding in social work values and ethics, students will work for social and economic justice with oppressed populations in society as well as in their workplace, civic, home and spiritual communities.
Benefits of an Accredited Baccalaureate Degree in Social Work
Employment in generalist social work practice as a full professional
Opportunity for advanced placement in a Master of Social Work (M.S.W.) program: up to one year of advanced standing in graduate school
Access to licensure in the state in which you wish to practice
A professional curriculum based on national standards
Make a Difference
Social workers make a difference by working with
Families
Older adults
People who are ill
People living in poverty
Children and adolescentsPeople who suffer from discrimination
Become an Effective Leader for Social Justice and Cultural Change
Create social and economic justice
Advocate for change
Empower yourself and others
Encounter local and global cultures
Become a leader in your world