Field of Dreams
Field of Dreams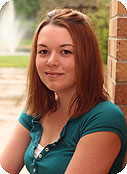 Samantha Leonard says her family's motto is "do what makes you happy." For the junior from Monon, Indiana, that meant attending Saint Mary's, even though it was a financial stretch. One major boost made her dream possible: a four-year scholarship from the Lilly Endowment Inc. that covered tuition to any school she chose in Indiana.
"The Lilly scholarship opened a door to a whole new life for me," says Samantha, a first-generation college student. "In my first semester at Saint Mary's, I had tea with a world-famous author, attended political lectures, was introduced to different cultures, and met some of the brightest women in the United States."
Combining different types of financial aid, she was able to study abroad on the Saint Mary's program in Maynooth, Ireland during her sophomore year. "It was amazing. I learned a lot, and coming from a small town, it was really important to see the world," she says.

Doors kept opening when Samantha returned to campus. As a business major, she is concentrating in marketing and pursuing minors in mathematics and intercultural studies . Passionate about sports, she landed a paid internship last summer with the Gary Rail Cats baseball club, through the Indiana Careers at Saint Mary's College program.
As an intern in the Rail Cats' front office, Samantha learned the ropes of running a professional sports team—getting hands-on experience in everything from marketing to stadium operations to group sales. She designed promotions, hung out with the team's two mascots, and ran the Rail Cats Kids' Club. Through the work, she developed an interest in community relations.
Most importantly, Samantha gained valuable skills and contacts that are moving her toward her goal of a career in sports marketing. Still a full-time student, she is working with the Chicago Cubs on a winter fundraiser. This spring and summer, she'll have a salaried position with the South Bend Silver Hawks, a minor league baseball team, as assistant to the director of community relations.
"I'm very fortunate," Samantha says of the opportunities. But hard work played as much of a role as luck, and she has clear advice for students who worry that they can't afford college or find a dream job in their field. "There's always money out there—don't be afraid to look for it. You can't let anything stop you … and Saint Mary's will help you make it happen."