Accepted Students
Are you ready for a transforming experience?
Now that you're admitted to Saint Mary's College, you have great resources and opportunities available to you. We're here to guide and support you through a smooth transition to college life.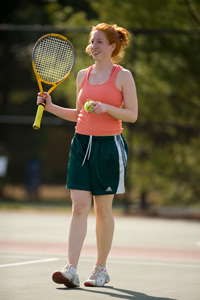 "It's almost humbling to realize you're surrounded by so many great women who have excelled in high school and have every intention of excelling in college, too."
—Natalie Grasso, Sharon, Pennsylvania
Residence Halls
Join 84 percent of Saint Mary's students who live on campus in one of our five residence halls. Students who live on campus do better academically and are surrounded by a community of supportive classmates, including women who are new to campus and upperclass students who will welcome and mentor you. By living together, studying together, and having fun together, you'll forge lifelong relationships.
Academics
With more than 50 academic programs and great resources to help you prepare, you'll find strong academic opportunities that lead to a fulfilling career and meaningful life. We're here to empower you with a well-rounded, nationally recognized education.
Student Life
You'll love Saint Mary's dynamic campus community and vigorous social life. Get involved in student-led organizations, with more than 70 to choose from on Saint Mary's campus. You can even participate in Notre Dame organizations, sports, and activities.
Welcome to Saint Mary's College, where you are joining a great variety of women who are eager to learn, grow, lead, and prepare to change the world.