Accepted Students
Are you ready for a transforming experience?
Now that you're admitted to Saint Mary's College, you have great resources and opportunities available to you. We're here to guide and support you through a smooth transition to college life.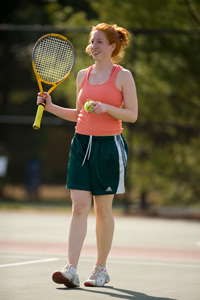 "It's almost humbling to realize you're surrounded by so many great women who have excelled in high school and have every intention of excelling in college, too."
—Natalie Grasso, Sharon, Pennsylvania
Residence Halls
Join 84 percent of Saint Mary's students who live on campus in one of our five residence halls. Students who live on campus do better academically and are surrounded by a community of supportive classmates, including women who are new to campus and upperclass students who will welcome and mentor you. By living together, studying together, and having fun together, you'll forge lifelong relationships.
Academics
With more than 50 academic programs and great resources to help you prepare, you'll find strong academic opportunities that lead to a fulfilling career and meaningful life. We're here to empower you with a well-rounded, nationally recognized education.
Student Life
You'll love Saint Mary's dynamic campus community and vigorous social life. Get involved in student-led organizations, with more than 70 to choose from on Saint Mary's campus. You can even participate in Notre Dame organizations, sports, and activities.
Welcome to Saint Mary's College, where you are joining a great variety of women who are eager to learn, grow, lead, and prepare to change the world.
---
We Understand...
We understand the uncertainty caused by the coronavirus outbreak, and that many families are experiencing anxiety at this time. We have decided to officially extend our deposit deadline for all accepted first year students to June 1 in an effort to help families finalize their plans during this difficult time. Saint Mary's is committed to working with each of you individually over the next weeks and months to ensure you feel comfortable with your decision. Whether it's accepting pass/fail grades and delayed final transcripts, to conversations regarding financial aid, we're flexible and willing to work with you. We are all here for you and strongly encourage you to reach out to our Admission and Financial Aid offices with questions. While it is too early for all of us to understand the impact of the significant changes happening across the country and the world, we want you to know that we are working on ways to help you during this trying time. Please hang tight, be well, and stay in touch with us!
Fall Update
In keeping with our intent to bring students back for the fall semester, our leadership team and COVID Task Force have developed a plan to begin in-person classes on August 10. Because many students attend classes across our tri-campus community, aligning our academic calendar with Notre Dame and Holy Cross is imperative. Therefore, we have decided to begin in-person classes on Monday, August 10, forego fall break, and complete the semester before Thanksgiving Break. We are deeply committed to ensuring the well-being of our campus community, and we will require that additional protective measures be put into place on campus to enhance the safety of all campus constituencies, and especially vulnerable populations.
Please understand, this plan may change. It depends on the status of the pandemic in our region, as well as on access to enough testing and diagnostics to meet our needs, among other complex factors. We look forward to working as a tri-college community to address these challenges. 
---
Congratulations!
It's time to celebrate! Saint Mary's is excited to offer these fun graphics and printable files that you can download and print out yourself or send to your local vendor (like FedEx, Staples, etc.) to print and get creative! Just Click the images to download!
High School Seniors, share your party layouts and ideas with the hashtag, #HelloBelles2024 on Instagram.