Belles Maintain Lead Heading Into Final Round
Results (pdf)

MARSHALL, Mich. - The Saint Mary's team maintained their lead in the hunt for the conference's automatic qualifying bid to the NCAA Championship at the second of three 18-hole rounds.

The Belles shot a 334 on the day to finish second in the round to Hope's 330. Fall champion and host Olivet had a 341 for third, and Calvin shot a 354 to round out the field. Saint Mary's has a two-round cumulative score of 658 going into Saturday's final round at the Medalist Golf Club. Hope moved ahead of Olivet for second place with a two-round total of 680. Olivet sits in third with a 686. Calvin has a 738 stroke total in the two days of play completed.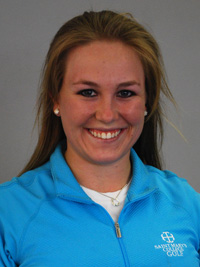 Doyle O'Brien was the medalist of
the round with a 78 on Friday.Doyle O'Brien was the medalist of the round after shooting a 78 (41-37) on the afternoon. The sophomore had ten pars and a pair of birdies while sharing the lead in par four scoring. Natalie Matuszak finished in a tie for sixth overall after a round of 83 (41-42), which included three birdies on the day.

Paige Pollak and Janice Heffernan wrapped up the 334 for the Belles with rounds of 86 and 87, respectively. Pollak, who finished 12th overall, had two birdies and six pars. Heffernan (t-13th) also added a pair of birdies on the day.

Christine Brown was the Belles' fifth scoring-eligible golfer and tied for 20th with a 97. The senior had a birdie as the Belles combined for ten birdies on the day.

Alexi Bown and Jessica Kinnick played as individuals in the round. Bown 95 (42-53; t-18th) had the hole of the day as the sophomore had an eagle on the par five, 487 yard number nine. Kinnick shot a 99 to finish 23rd overall.

The final round to determine which team receives the MIAA's bid to the national tournament will begin at 1:00 p.m. on Saturday afternoon at the Medalist Golf Club.