Belles in Fifteenth After Day One at NCAA Championship
Results, Scores, Stats (pdf)
ANGOLA, Ind. - The Saint Mary's golf team currently sits in fifteenth place after the first day of competition at the 2012 NCAA Division III Golf Championship hosted by Trine University.

Leading the field after 18 holes of play at the Zollner Golf Course is Williams College with a day one score of 307. The 14-time defending national champion Methodist University Monarchs are in second with a 310 while DePauw and St. Olaf are tied for third with a 311 on day one. A mere ten strokes separate second place from tenth place in the highly-talented national tournament field of 19 teams.

Williams College's Georgiana Salant shot an even-par 72 to lead the battle for the individual national championship. Rose Kelly of Illinois Wesleyan and Kelly Sweeney of Whitman both shot rounds of 73 to tie for second after the first day of play.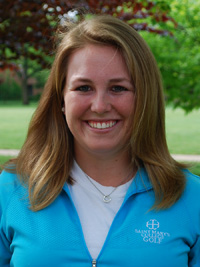 Doyle O'Brien led the Belles with a
77 on day one at the NCAA
Championship.Doyle O'Brien continued her strong spring with a 77 (39-38) in the first day of the tournament, which is currently good enough for a share of tenth place individually. The sophomore had birdies on par five number five and par five number 10 to go along with ten pars. Classmate Paige Pollak turned in the Belles' second-best score of the day with a ten-over 82 (39-43). Pollak had a birdie on the par five seventh hole and added eight pars for a share of 52nd place individually.

Freshman Janice Heffernan shot an 84 (44-40) on Tuesday, which included a birdie on the par four twelfth to put her in a tie for 73rd. Senior Natalie Matuszak wrapped up the team's 331 with an 88 (42-46), which put her in a tie for 89th after one day of play. Classmate Christine Brown was the Belles' fifth scoring-eligible golfer and shot a 92 (t-96th). Brown bounced back from a tough back nine (51) to shoot a five-over 41 on the front nine.

The Belles, who were seeded sixteenth heading into the tournament, will start on the front nine on day two and will tee off beginning at approximately 12:30 p.m.
Course:Zollner Golf Course: NCAA Tees     Par 72 - 5990 yards

current
position
team
scoring
rounds
total
score
to par
thru
today
1
1
+19
F
  +19
307
307
2
+22
F
  +22
310
310
T3
+26
F
  +26
314
314
T3
+26
F
  +26
314
314
5
+27
F
  +27
315
315
6
+28
F
  +28
316
316
T7
+29
F
  +29
317
317
T7
+29
F
  +29
317
317
9
+30
F
  +30
318
318
10
+32
F
  +32
320
320
11
+34
F
  +34
322
322
12
+36
F
  +36
324
324
13
+38
F
  +38
326
326
14
+42
F
  +42
330
330
15
+43
F
  +43
331
331
T16
+49
F
  +49
337
337
T16
+49
F
  +49
337
337
18
+50
F
  +50
338
338
19
+60
F
  +60
348
348