Belles Tie for Second at First Day of End of Season Jamboree
Results (PDF)

BATTLE CREEK, Mich. - The Saint Mary's golf team tied for second place at day one of the two-day MIAA End of Season Jamboree at Bedford Valley Golf Course.

Olivet extended their lead over the rest of the league with a 323. Saint Mary's tied with Hope for second place with matching 340 scores. Olivet's Adrienne Plourde turned in the low round of the day with a 78.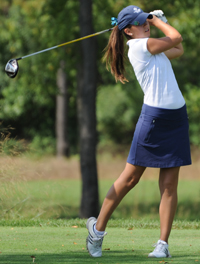 Janice Heffernan led the Belles with
an 82 to finish fifth individually.Janice Heffernan led the way for the Belles on Friday. The sophomore shot a 82 to finish fifth individually while scoring 10 pars and leading the field with one other player in par three scoring. Paige Pollak finished one stroke behind Heffernan with a 83 to tie for sixth place. Pollak had a round-best three birdies on the evening and was tied for second in par five scoring.

Amanda Graham shot an 86 to finish in a tie for 13th. She had eight pars in the round and was also tied for second in par five scoring. Claire Boyle turned in an 89 for the Belles to finish tied for 21st. Justine Bresnahan was the fifth scoring-eligible golfer for the Belles and shot a 90 to tie for 23rd individually.

Sammie Averill and Jessica Kinnick played as individuals. Averill shot an 89 (t-21st) while Kinnick carded a 92 (t-26th).

The fall season will conclude tomorrow as the Belles compete in day two of the MIAA End of Season Jamboree beginning at 10:00 a.m.