Belles Take Third at Blackthorn
Results (PDF)

SOUTH BEND, Ind. - The Saint Mary's golf team finished third by the narrowest of margins in the third MIAA Jamboree, which the Belles hosted at Blackthorn Golf Club.

Olivet took first with a score of 329, Hope finished second with a 334, and Saint Mary's was third with a 335. Olivet's Adrienne Plourde was the medalist with a 76.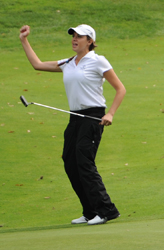 Claire Boyle celebrates her
birdie after a long putt on the
18th hole.Justine Bresnahan led the way for the Belles with a 78 on the afternoon to finish second overall individually. The junior had birdies on the par three third, par four tenth, and par five 15th. She also added eight pars on the day. Claire Boyle finished in a tie for fourth place with a round of 83. She had birdies on par five 15 and par five 18 while scoring pars on seven holes.

Janice Heffernan shot an 86 to finish tied for 14th. She was tied for fourth in par four scoring on the afternoon while finishing with six pars. Paige Pollak finished the day with an 88 to share 19th place. The junior had birdies on the par four fifth hole and the par five seventh hole for the Belles. Amanda Graham was the fifth scoring eligible golfer for Saint Mary's and shot a 92 (t-24th).

Anna-Marie Gainey, Sammie Averill, Alexi Bown, and Jessica Kinnick all played as individuals. Gainey shot an 82 to tie for fourth place individually. Averill had a 91 on the day to tie for 21st. Bown had a pair of birdies while shooting a 94 (t-33rd). Kinnick carded a 96 to finish in a tie for 37th place.

The Belles will travel to Adrian, Michigan this upcoming Saturday for the fourth MIAA Jamboree at the Lenawee Country Club beginning at 1:00 p.m.