Belles Finish Second at Opening MIAA NCAA Qualifier
Results (pdf)

SOUTH BEND, Ind. - The Saint Mary's golf team shot a 353 to finish second at the first of three MIAA NCAA Qualifying rounds on Wednesday evening.

Olivet won the round with a team score of 330. The Comets' Adrienne Plourde was the medalist of the round after shooting a four-over 76. Hope finished third with a 361 while Calvin was fourth with a team score of 370.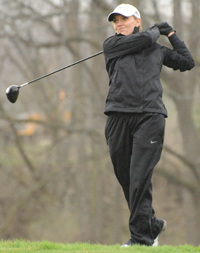 Paige Pollak led the Belles with an
84 on Wednesday.Paige Pollak led the Belles with an 84 to finish fourth individually after turning in eight pars, a birdie, and ending the round with an even score on par five holes. Claire Boyle finished sixth with an 86 with eight pars on the windy afternoon.

Alexi Bown was seventh individually after shooting an 89 with five pars while being tied for the best par three scoring. Jess Kinnick wrapped up the team score with a 94 to finish in a tie for 15th place. Janice Heffernan was the Belles' fifth scoring eligible golfer and shot a 95 to finish 20th.

The Belles will take part in the second and third MIAA NCAA Qualifying rounds a week from Friday and Saturday. The team with the lowest three-round score will receive the conference's automatic qualifier for the 2013 NCAA Division III Golf Championships in May.