Belles Share Sixth at O'Brien National Invitational
Results (PDF)

NOTRE DAME, Ind. - The No. 15 Saint Mary's golf team is tied with No. 2 DePauw for sixth place after day one of the O'Brien National Invitational at the Warren Golf Course on Sunday.

The Belles shot a 332 on the day to match the second-ranked Tigers. The fifteen-time defending national champions from Methodist University hold the lead at the midway point of the tournament after carding a 318. Fifth-ranked Washington University in St. Louis is second (321) while third-ranked Centre is third (325). George Fox's Kelsey Morrison shot the low individual round of the day with a 73. Hannah Buck from Washington University in St. Louis is a shot back for the individual title heading into the second day of competition on Monday.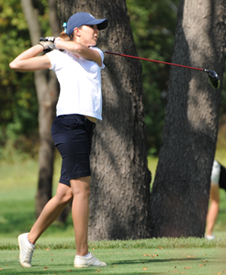 Justine Bresnahan watches her drive on
the sixth hole.Saint Mary's was led by Justine Bresnahan's 80 (42-38) on the day, which puts the junior in a tie for 11th place individually. She was tied for fifth in par four scoring on the day. Paige Pollak was not far behind as she followed up a 43 on the front nine with a 39 on the back nine for an 82 and a share of 19th place. The junior was fourth overall in par four scoring while shooting par on 10 holes on the day.

Amanda Graham was one stroke behind Pollak with an 83 (41-42). Shooting even par on par three holes, the freshman also had 10 even par holes in the opening round of play as she currently sits tied for 23rd individually. Janice Heffernan wrapped up the team's 332 with an 87 (41-46) to hold a share of 35th place. Claire Boyle was the fifth scoring eligible golfer for the Belles and turned in an 89 (42-47) and is tied for 44th place individually.

Five members of the team played as individuals in the event. Alexi Bown shot an 88 (43-45) and is tied for 41st. Jessica Kinnick is tied for 53rd after turning in a 92 (47-45). Annie McGlone shot a 93 (49-44) to sit in a tie for 56th. Anna-Marie Gainey was a stroke behind with a 94 (46-48) and is tied for 59th. Sammie Averill had a 96 (49-47) on the day and is tied for 62nd.

The two-day tournament featuring ten of the best NCAA Division III women's golf programs will conclude tomorrow at the Warren Golf Course. Play is scheduled to begin at 8:30 a.m.