Belles Finish Eighth at O'Brien National Invitational
Results (PDF)

NOTRE DAME, Ind. - The fifteenth-ranked Saint Mary's golf team finished in eighth place at the O'Brien National Invitational at the Warren Golf Course on Monday.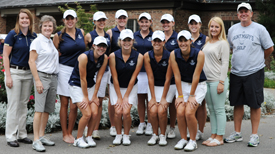 The golf team with Katie '08, Diane, and Tim O'Brien.The Belles finished ahead of eighth-ranked Gustavus Adolphus and fourteenth-ranked Whitman in a field of teams all ranked within the top 15 in NCAA Division III women's golf. The top-ranked and fifteen-time defending national champion Methodist University won the event with a two day score of 633 (318-315). Fifth-ranked Washington University in St. Louis finished second with a two day total of 640 (321-319).

George Fox University's Kelsey Morrison was the individual champion after rounds of 73 and 76 (149). DePauw University's Kelsey Smith set a new tournament record with a two-under 70 on Monday to finish in second place individually.

The Belles were led by a pair of 82s on the day by Amanda Graham and Claire Boyle. Graham finished tied for 21st overall with her round of 83 yesterday and tied for second in par 3 scoring. Boyle took a team-best seven strokes off her score from yesterday's round to finish with a two-day score of 171 (t-34th).

The Saint Mary's scores were consistent overall as Justine Bresnahan had the same two-day score as Graham and Paige Pollak's two-day total matched Boyle's. Bresnahan shot an 85 on Monday for a 165 for the tournament and a share of 21st place. Pollak turned in an 89 for a 171 in the two-day event (t-34th). Janice Heffernan was the Belles' fifth scoring eligible golfer and had a 95 (87--182) to finish tied for 53rd place.

Alexi Bown led a group of five Belles playing as individuals in the tournament with an 89 on Monday for a two-day score of 177 (t-44th). Jessica Kinnick had a 91 for a final score of 183 (t-55th). Annie McGlone shot a 92 on Monday for a two-day total of 185 (59th). Anna-Marie Gainey cut two strokes off her score from yesterday with a 92 on Monday for a 186 (t-60th). Sammie Averill rounded out the Saint Mary's efforts with a 98 for a two-day score of 194 (63rd).

The Belles open up conference competition this week as they travel to the Medalist Golf Club on Thursday, September 20. The first of six 18-hole MIAA rounds this fall is hosted by Olivet and is scheduled to begin at 1:00 p.m.