Heffernan Garners Third WGCA All-American Scholar Honor
CORAL SPRINGS, Fla. - Saint Mary's golfer Janice Heffernan was one of 664 NCAA Division I, II, and III women's golfers to be named to the 2013-14 Women's Golf Coaches Association All-American Scholar Team.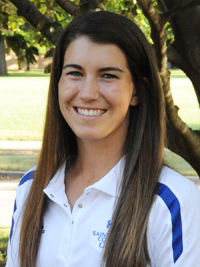 The rising senior nursing major was one of just six MIAA golfers to earn the academic distinction this year.
To be named to the list, a student-athlete must maintain at least a 3.5 cumulative grade point average for the entirety of their collegiate career and be of high moral character and in good standing at the college making the nomination.
Additionally, Division III student-athletes must have participated in a minimum of 12 rounds and hold an adjusted scoring average of "95.00" or less. In 19 rounds of play during the 2013-14 academic year, Heffernan posted an 84.21 stroke average for the Belles.
It is the third consecutive year Heffernan has been named a WGCA All-American Scholar.