Belles Take Second Place at First MIAA NCAA Qualifier
SOUTH BEND, Ind. - The Saint Mary's golf team posted a spring season-low 329 to take second place at the first MIAA NCAA Qualifying round on Wednesday.
Fall conference champion Olivet narrowly beat out the Belles for first place with a 325 at Blackthorn Golf Club. Trine was third with a 359, and Calvin finished fourth with a 374.
Olivet's Adrienne Plourde shot a one-over par 73 to claim individual medalist honors.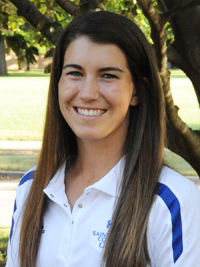 Janice Heffernan led the Belles with
an 80 to finish second overall.Janice Heffernan and Claire Boyle led the way for the Belles. Heffernan finished second overall with an 80, which included ten pars and an even scoring day on par three holes. Boyle was a stroke back with an 81 and had two birdies and six pars on the day to finish third.
Paige Pollak and Alexi Bown wrapped up the team score. Pollak carded an 83 (t-4th) and posted the second-lowest score on the back nine among players in the field. Bown turned in an 85 and had seven pars in the round while finishing eighth.
Sammie Averill was the fifth scoring-eligible golfer for Saint Mary's and shot an 89 to finish with a share of 13th place.
Katie Zielinski, Ali Mahoney, Courtney Carlson, and Rachel Kim all competed as individuals. Zielinski shot an 87 to finish 11th; Mahoney had a score of 95 to finish 24th; Carlson turned in a 97 (t-25th); and Kim shot a 98 (t-27th).
The second and third rounds of the spring MIAA Automatic Qualifier will take place on Saturday, April 26 and Monday, April 28 at the Medalist Golf Club. The team with the lowest cumulative score from the three rounds of play will receive the MIAA's automatic qualifying bid to the 2014 NCAA Women's Golf Championship in May.