Belles Close Out Season With Second Place Finish
MARSHALL, Mich. - The Saint Mary's golf team shot a 349 to finish second at the third and final MIAA NCAA Qualifying round at the Medalist Golf Club.
Fall conference champion Olivet captured the conference's automatic qualifying bid to the 2014 NCAA Division III Championship with a 331 on Monday. Combined with the other two spring rounds, the Comets finished 50 strokes ahead of the Belles in the cumulative standings.
Olivet's Adrienne Plourde was the individual medalist after shooting a four-over par 77.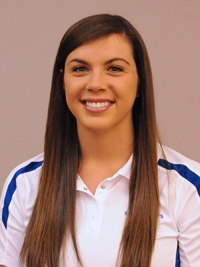 Claire Boyle led the team with seven
pars on Monday.Paige Pollak, Claire Boyle, and Ali Mahoney led the Belles with matching scores of 87 to tie for seventh place individually. Each of the three players recorded a birdie on the day, and Boyle led the Belles with seven pars. Janice Heffernan wrapped up the team score with an 88 to finish tied for eleventh place individually. Sammie Averill was the fifth scoring-eligible golfer for Saint Mary's and shot a 93 (t-18th).
Rachel Kim and Courtney Carlson played as individuals at the event. Kim shot an 88 (t-11th), and Carlson turned in a 95 (t-22nd).
The Belles conclude their season with a second-place finish in the spring conference standings after taking second place in the fall as well.