Belles Remain in Second in MIAA Qualifying Rounds
MARSHALL, Mich. - The Saint Mary's golf team posted a 344 to finish 28 strokes behind Olivet at the second of three MIAA NCAA Qualifying Rounds.
The Comets expanded their lead over the Belles with a course-record 316 as Olivet holds a 32-stroke lead going into the final qualifying round on Monday. Trine finished third with a 347, and Calvin was fourth with a team score of 364.
Olivet's Adrienne Plourde shot a 76 to claim individual medalist honors at the event.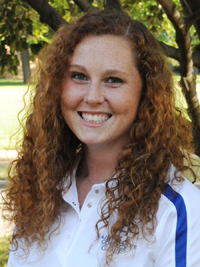 Sammie Averill led the Belles on
Saturday with an 83.Sammie Averill had a pair of birdies and led the Belles with an 83 to finish in a tie for fifth place individually. Janice Heffernan turned in an 85 to finish eighth. Paige Pollak held a share of ninth place with an 87 while also posting a pair of birdies. Claire Boyle wrapped up the team score with an 89 while tying for 14th. Ali Mahoney was the Belles' fifth scoring-eligible golfer and shot a 90 (t-17th).
Rachel Kim and Courtney Carlson played as individuals. Kim had a 91 to finish nineteenth, and Carlson carded a 92 to hold a share of 20th.
The Belles play in the third and final MIAA NCAA Qualifying round on Monday, April 28 at the Medalist Golf Club in Marshall, Michigan starting at 12:30 p.m.