Belles in Seventh at O'Brien National Invitational
Day One Results (pdf)
NOTRE DAME, Ind. - The Saint Mary's golf team currently sits in seventh place after day one of the O'Brien National Invitational hosted by the Belles at the Warren Golf Course.
Fourth-ranked DePauw leads the field after a day-one score of 316. Eleventh-ranked Centre is second with a 323, and 17th-ranked Olivet is third with a 327. The Belles shot a 333 on day one of the two-day event.
George Fox's Loreece Magsanide led the field with a 74 on Sunday.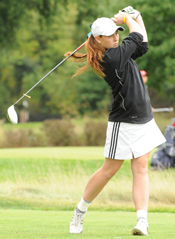 Sammie Averill watches a drive
on Sunday.Paige Pollak led the Belles' efforts on the day with an 80, which put her in a tie for eleventh place individually. Her two birdies was good enough for third among the field of 60 golfers. Sammie Averill had the best round of her collegiate career with an 81 to hold a share of 13th place after day one. Averill was one-over on par three holes on the day and had nine pars total.
Alexi Bown shot an 85 and is currently tied for 21st place individually. Janice Heffernan wrapped up the team score with an 87 (t-27th). Ali Mahoney was the Belles' fifth scoring-eligible golfer and shot a 91 (t-43rd).
Emmie Schultz (88, t-33rd), Katie Zielinski (89, t-40th), Rachel Kim (92, t-46th), and Courtney Carlson (107, 60th) all played as individuals in the tournament.
Day two of the O'Brien National Invitational begins at 8:30 a.m. at the Warren Golf Course at the University of Notre Dame.