Belles in Fifteenth After Day One at Jekyll Island
JEKYLL ISLAND, Ga. - The Saint Mary's golf team is currently in fifteenth place after the first round of the 2015 Jekyll Island Collegiate Invitational.
Leading the field is defending national champion Rhodes, who shot a 322 on Friday. Huntingdon, Illinois Wesleyan, and New York University all hold a share second place with matching team scores of 329. The Belles turned in a team score of 349.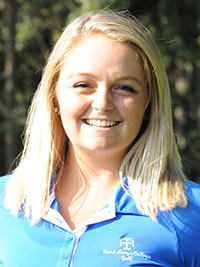 Courtney Carlson led the Belles
with an 85 on Friday.Leading the way for the Belles in round one were Courtney Carlson and Katie Zielinski. Carlson shot an 85 (t-42nd) with six pars and a birdie on par five hole No. 7 and shot an impressive 39 (+3) on the front nine. Zielinski was just a stroke behind Carlson after shooting an 86 (t-49th) on the day with consistent scores on both the front and the back nine. She had eight pars, including five on the back nine alone.
Kaitlyn Cartone was just two strokes back of Carlson and Zielinski with an 88 (t-63rd) on the day. The freshman posted four pars and had just two holes with double bogeys. Janice Heffernan rounded out the team's 349 with a round of 90 (t-74th). She turned in matching 45s on both the front and back nine to go along with four pars.
Kelsey Conkright was the Belles' fifth scoring-eligible golfer and shot a 93 (88th). She had five pars on the day. Lydia Lorenc is competing as an individual in the tournament and shot a 91 (t-78th). She had seven pars to go along with a birdie on par four No. 5.
Day two of the three-day tournament at Indian Mound Golf Club starts at 8:00 a.m. on Saturday. The Belles will tee off with the afternoon group starting at approximately 12:39 p.m.