Belles Finish Fifteenth at Jekyll Island
JEKYLL ISLAND, Ga. - The Saint Mary's golf team finished in fifteenth place at the Jekyll Island Collegiate Invitational. The Belles shot their lowest round of the tournament on Sunday with a 340 to finish with a three-day score of 1042.
Defending national champion Rhodes won the tournament with a three-day score of 943 after turning in a 306 on Sunday. Claremont Mudd Scripps and New York University shared second place with scores of 958.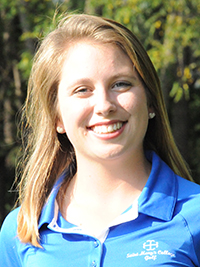 Katie Zielinski shot a 79 to lead
the Belles in the final day at
Jekyll Island.Katie Zielinski led the way for the Belles on Sunday with a 79 (254, 52nd overall). The junior had nine pars to go along with a birdie on the par five 10th hole. Courtney Carlson shot an 85 (271, t-81st) with six pars on the day.
Janice Heffernan (260, t-61st) and Kaitlyn Cartone (262, t-71st) both shot rounds of 88 on Sunday to round out the team score. Heffernan turned in five pars while Cartone had five pars and a birdie on the par four 13th hole.
Kelsey Conkright was the Belles' fifth scoring eligible golfer in the tournament and shot a 94 (283, 95th) with four pars. Lydia Lorenc competed as an individual and shot a 96 (290, 99th) on Sunday with four pars and a birdie on the par four 15th hole.
The Belles return to competition on March 28 and 29 in the Washington University in St. Louis Spring Invitational in Madison, Illinois.