Belles Keep Hold of Fifteenth at Jekyll Island
JEKYLL ISLAND, Ga. - The Saint Mary's golf team held steady in fifteenth place after day two of the Jekyll Island Collegiate Invitational after shooting a 353.
Defending NCAA Division III Champion Rhodes continues to lead the field after shooting a 315 on day two for a combined score of 637. New York University is in sole possession of second place after a 316 on Saturday gave them a 645 heading into Sunday. Claremont Mudd Scripps moved up four places in the standings with a 315 for a two-day score of 648.
The Belles' two day score of 702 is just two strokes behind 14th place Carnegie Mellon, seven strokes back of 13th place Sewanee, and 20 strokes away from 12th place Randolph-Macon.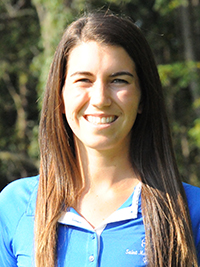 Janice Heffernan led the Belles
with an 82 on Saturday.Janice Heffernan led the way for the Belles with an 82 (172, t-58th) on Saturday. The senior had seven pars and notched a birdie on the par four 13th hole. Kaitlyn Cartone was just four strokes behind after carding an 86 (174, t-61st) with seven pars and a birdie on the par three 16th hole.
Katie Zielinski showed consistency from the front nine (44) to the back nine (45) on Saturday with a round two score of 89 (175, t-64th). She also had seven pars and a birdie on the par five 7th hole. Kelsey Conkright wrapped up the team score with a 96 (189, 91st) after notching three pars on the day.
Courtney Carlson was the Belles' fifth scoring-eligible golfer and had a 101 (186, 89th) with three pars and a birdie on the par three 12th hole. Lydia Lorenc is competing as an individual at the tournament and shot a 103 (91, t96th) on Saturday with four pars.
The three-day tournament concludes tomorrow as the final round begins at 8:00 a.m. at Indian Mound Golf Club.