Belles Tie for Third in First Day of MIAA Finale
BATTLE CREEK, Mich. - The Saint Mary's golf team shot a 349 to tie for third after day one of the MIAA End of Season Weekend Jamboree on Friday.
Hope claimed first with a 318 and extended their lead in the conference standings to 59 strokes heading into tomorrow's final round at Bedford Valley Golf Course. Olivet took second with a 329 and holds a 29-stroke lead above Saint Mary's for second place in the overall league standings.
Hope's Megan Klintworth and Olivet's Casey Lamp tied for medalist honors at the conclusion of the round with scores of 77.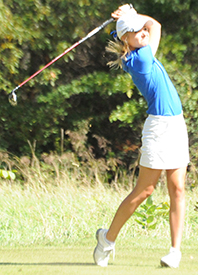 Ali Mahoney finished second for
the Belles with an 85.Janice Heffernan had the low score for the Belles with an 84 to finish in eighth place overall. Ali Mahoney was just a stroke behind Heffernan with an 85 to hold a share of ninth place.
Kaitlyn Cartone and Courtney Carlson finished within two strokes of one another to wrap up the team score. Cartone had an 89 to tie for 17th, and Carlson carded a 91 for 24th place individually. Katie Zielinski was the Belles' fifth scoring-eligible golfer and shot a 92 to tie for 25th.
Rachel Kim is competing as an individual at the event and shot a 92 to also tie for 25th overall.
The Belles conclude the fall season tomorrow at Bedford Valley in the final conference round of the year. Play tees off starting at 10:00 a.m.