Belles Secure Third Place at Lenawee Country Club
ADRIAN, Mich. - On a cold and unfavorable day in terms of weather, the Saint Mary's golf team shot a 349 to finish third at the MIAA Jamboree hosted by Adrian at Lenawee Country Club.
Hope continued their string of jamboree wins by a narrow two-stroke margin. The Flying Dutch shot a 340 to finish ahead of Olivet's team score of 342. Olivet's Brooke Kastamo shot an 80 to claim round medalist honors.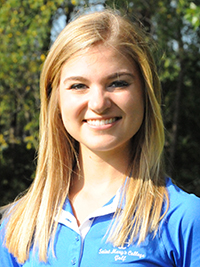 Ali Mahoney helped the Belles to
a third place finish with an 85.Janice Heffernan was one stroke off the individual lead after carding an 81 to finish second. Ali Mahoney turned in a round of 85 to hold a share of seventh place individually.
Kaitlyn Cartone shot a 91 to finish in 19th place, and Kelsey Conkright was a stroke back with a 92 to tie for 20th place. Katie Zielinski was the fifth scoring-eligible golfer for the Belles and shot a 93 to finish tied for 25th overall.
Rachel Kim competed as an individual at the event and shot a 94 to tie for 30th place.
The Belles have nearly a week to prepare for their final two conference rounds of the season. The team will compete in the MIAA End of Season Weekend Jamboree on Friday and Saturday, October 10 and 11 at the Medalist Golf Club in Marshall, Michigan.