Belles Take Third at Second MIAA Qualifying Round
SAUGATUCK, Mich. - The Saint Mary's golf team shot a 348 to finish in third place at the second of three rounds of MIAA competition this spring.
Olivet and Hope tied for first at the conclusion of the round with matching team scores of 329. The Belles finished seven strokes ahead of fourth place Trine. Olivet's Brooke Kastamo was the round medalist with a four-over par 76.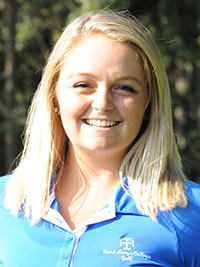 Courtney Carlson shot a team-low
80 on Friday.Courtney Carlson led the Belles with a score of 80 on Friday to finish third overall. Kelsey Conkright and Janice Heffernan finished within one stroke of one another with rounds of 86 (11th) and 87 (12th), respectively.
Kaitlyn Cartone rounded out the team score with a 95 for the Belles while finishing 18th. Katie Zielinski was the team's fifth scoring-eligible golfer and shot a 101 to finish 20th among competing players.
The third and final 18-hole round which will determine the conference's recipient of the automatic bid to the NCAA Championships in May is slated to start tomorrow at the Ravines Golf Club in Saugatuck, Michigan starting at 2:00 p.m.