Belles Claim Second at MIAA Jamboree
ALMA, Mich. - The Saint Mary's golf team posted their best score of the season to date with a 324 to finish second at the conference round played at Pine River Country Club on Saturday.
Hope won the round with a team score of 318, six strokes ahead of the Belles. Olivet was third with a 337. Trine's Amy Worthington was the round medalist with an 18-hole score of 77.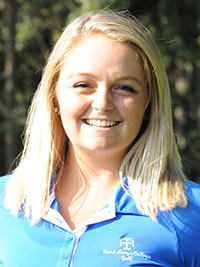 Courtney Carlson led the Belles
with a 78 on Saturday.Courtney Carlson was a stroke off the lead with a 78 to finish tied for second place. Ali Mahoney turned in a 79 to tie for fourth place individually.
Kaitlyn Cartone (82, t-7th) and Janice Heffernan (85, t-15th) rounded out the team score of 324. Kelsey Conkright shot a 96 (t-37th) as the Belles' fifth scoring-eligible golfer.
Katie Zielinski competed as an individual at the event and shot a 92 (t-33rd) for the Belles.
With the round, the Belles move up from fourth place in the conference standings to second place and trail Hope by 14 strokes heading into the next round of play.
Saint Mary's and the rest of the MIAA women's golf teams return to the course at 1:00 p.m. on Tuesday, September 30 for the conference jamboree hosted by Hope at the Ravines Golf Club in Saugatuck, Michigan.