Belles in Tenth at O'Brien National Invitational
NOTRE DAME, Ind. - The Saint Mary's golf team is in tenth place at the sixth annual O'Brien National Invitational, which the Belles host at the Warren Golf Course at the University of Notre Dame.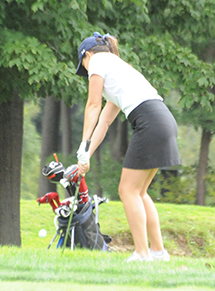 Janice Heffernan had a team-low
87 on Sunday.Twentieth-ranked Wittenberg leads the field after a blistering 307. Top-ranked Washington University in St. Louis is second with a 323, and defending national champion Rhodes is third with a 325. Wittenberg's Jane Hopkinson-Wood and Washington University's Connie Zhou are tied atop the leaderboard after carding rounds of 73.
The Belles turned in a team score of 374. Janice Heffernan led the Belles with an 87 to hold a share of 34th. Ali Mahoney was a stroke behind with an 88 to sit tied for 38th individually. Katie Zielinski shot a 96, which puts her in a tie for 58th place. Lydia Lorenc rounded out the team score with a 103 (63rd). Courtney Carlson was the fifth scoring-eligible golfer for Saint Mary's and shot a 109 (65th).
Rachel Kim, Kaitlyn Cartone, and Kelsey Conkright all played as individuals for Saint Mary's. Kim shot a 95 (t-54th), Cartone had a round of 95 (57th), and Conkright turned in a 98 (61st).
The two-day tournament concludes on Monday, September 15 as the round begins at 9:00 a.m. with a shotgun format.