Belles Claim Third at Olivet Labor Day Tee-Off Tournament
MARSHALL, Mich. - The Saint Mary's golf team shot a 344 to finish with a two-day score of 694 and third place at the 2014 Olivet Labor Day Tee-Off Tournament.
Washington University in St. Louis took the team title with a score of 625 at the Medalist Golf Club while host Olivet finished second with a 668. Washington University's Olivia Lugar was the individual medalist with a 75 today for a final score of 152.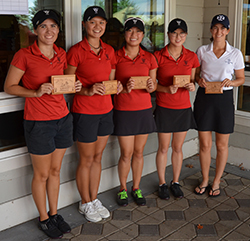 Janice Heffernan (right) earned
all-tournament team honors at Olivet.Janice Heffernan led the way again today for the Belles. The senior tied for the second-best round of the day with a 78 to claim fifth place individually and a spot on the all-tournament team with a 159. Ali Mahoney shaved five strokes off of her score yesterday for an 81 today and a share of 11th place (167). Courtney Carlson also improved her score by turning in an 88 for a 179 and 22nd place. Kelsey Conkright wrapped up the team's 344 today with a 97 while finishing tied for 31st with a two-day score of 199. Lydia Lorenc was the fifth scoring-eligible golfer for the Belles and shot a 101 to finish with a 193 and 29th place.
Rachel Kim competed as an individual and shot a 91 today to finish with a 188 and 27th place overall.
The Belles will next compete when they host the O'Brien National Invitational at the Warren Golf Course at the University of Notre Dame on Sunday, September 14 and Monday, September 15.