Belles Hold Sixth at Trine Spring Classic
ANGOLA, Ind. - The Saint Mary's golf team shot a 366 on day one of the Trine Spring Classic to hold sole possession of sixth place.
Hope shot a 327 to lead the field of eleven teams. Bethel was just a stroke behind with a 328 while Calvin sits in third with a 345.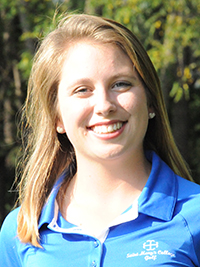 Katie ZielinskiKatie Zielinski led the way for Saint Mary's with an 89 (t-23rd) on Friday. Courtney Carlson was one stroke behind Zielinski with a 90 (t-25th). She was two-over on par five holes, which put her in the top 20 players in the tournament in par five scoring on day one.
Katilyn Cartone shot a 92 (30th) and was also two-over on par five holes on Friday. The freshman added a birdie in her round as well. Janice Heffernan rounded out the team score with a 95 (t-32nd).
Kelsey Conkright was the team's fifth scoring-eligible golfer and shot a 96 (t-36th). She was even on par five scoring on the day, which was tied for the third-best scoring on par five holes in the round. She also added a birdie. Lydia Lorenc played as an individual and shot a 96 (t-36th) and had a birdie.
The two-day tournament at Zollner Golf Course concludes tomorrow after a 1:00 p.m. shotgun start.