Belles Move Up to Share Fifth at Trine Classic
ANGOLA, Ind. - The Saint Mary's golf team took 26 strokes off of yesterday's score to climb up a spot and tie for fifth place at the Trine Spring Classic on Saturday.
Hope won the tournament with a 329 to finish with a 656. Bethel was second with a two-day score of 663, and Trine was third with a 678. The Belles shot a 340 on Saturday to end the event with a 706 - just two strokes behind fourth place Calvin.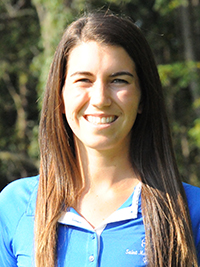 Janice Heffernan had a team-low
81 on Saturday.Janice Heffernan led the Saint Mary's causes on day two with an 81 (176 two-day score, t-20th overall). The senior ended the tournament with 13 pars. Courtney Carlson shot an 84 and had the team's best two-day score with a 174 to finish 17th. She notched 11 pars on the weekend and was in the top twelve in par five scoring.
Kaitlyn Cartone turned in an 87 on day two (179, t-24th) and finished the event with 13 pars while being in the top ten in par three scoring. Katie Zielinski wrapped up the team score with an 88 (177, t-22nd).
Kesley Conkright shot a 92 (188, t-34th) as the Belles' fifth golfer in the lineup. She had a pair of birdies at the tournament and was in the top twelve in par five scoring. Lydia Lorenc competed as an individual in the tournament and had a 97 on Saturday (193, t-38th).
The Belles travel to Marshall, Michigan on Tuesday, April 14 for the first of three MIAA rounds which will determine the conference's automatic qualifier for the NCAA Championships. Tuesday's round, which is hosted by Olivet, will be played at the Medalist Golf Club and will start at 12:45 p.m.