Belles Claim Second at Cross Town Rivalry
The Belles shot a 326 and finished second overall at the Cross Town Rivalry
Taylor Kehoe led the team with a 79
Eight players turned in scores below 90 for Saint Mary's
SOUTH BEND, Ind. - The Saint Mary's golf team shot an impressive 326 at Elbel Golf Course on a rainy Saturday to take second place at the Cross Town Rivalry.
NAIA No. 22 Bethel claimed first place with a 319 on Saturday to finish the two-day tournament with a 646. Saint Mary's had a two-day score of 672. Holy Cross turned in a 342 on day two to end the tournament with a 715.
Bethel's Annie Smith claimed overall medalist honors after a 77 on Saturday to end with a 156.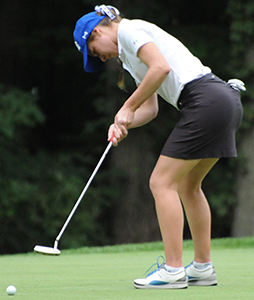 Taylor Kehoe fired a 79 to lead the Belles.Taylor Kehoe paced the Belles' efforts with a 79 on the day while claiming fourth place with a 165. Ali Mahoney and Courtney Carlson each notched rounds of 82. The pair both had matching scores of 168 after the two rounds of play to finish tied for fifth place.
Kaitlyn Cartone wrapped up the team score with an 83 and finished in a tie for eighth place with a 171. Lydia Lorenc and Rachel Kim each added scores of 87. Lorenc held a share of 14th with a two-day score of 177. Kim, meanwhile, ended in a tie for 11th with a 175.
Leading the group competing as individuals for the Belles was Patty Meza, who shot a 90 on Saturday to finish 13th overall with a 176. Katie Zielinski carded an 89 to finish a stroke behind Meza with a 177 to tie for 14th.
Kelsey Conkright notched a 90 on the day to end the tournament with a 180 (t-18th). Isabella Speedon recorded an 85 to finish in a tie for 21st with a 183. Courtney Quinlan shot a 93 for the Belles to round out the team's efforts while finishing 28th with a two-day score of 199.
The Belles are next in action on Saturday and Sunday, September 5 and 6, when they compete in the Olivet Labor Day Tee-Off Tournament at the Medalist Golf Club in Marshall, Michigan.