Belles Tie For Top Score at First Day of MIAA Finale
The Belles tied for first place overall with a 325.
Ali Mahoney and Sammie Averill shot 79s to tie for third place individually.
Courtney Carlson (80) and Taylor Kehoe (87) rounded out the team score.
BATTLE CREEK, Mich. - The Saint Mary's golf team matched their best score of the fall season with a 325 to tie for top team honors at the first round of the MIAA End of Season Weekend Jamboree.
The Belles' 325 was matched by league-leading Hope at Bedford Valley Golf Course. Olivet was third with a 328 while Trine finished fourth with a 330. Hope's Britni Gielow was the individual medalist with a 75.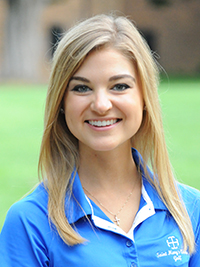 Ali MahoneyAli Mahoney and Sammie Averill led the way for Saint Mary's as the pair shot rounds of 79 to finish tied for third. Mahoney turned in two birdies and nine pars on the afternoon while finishing one over par on par five holes. Averill had a round-best 14 pars and was even on par five holes.
Courtney Carlson was just a stroke behind with a season-low 80 to finish tied for seventh. She had two birdies and 10 pars while leading the field in par four scoring (+2). Taylor Kehoe rounded out the team score with an 87 (t-18th). She recorded six pars and was among the top ten players in par five scoring in the round.
Kaitlyn Cartone was the fifth golfer in the lineup for the Belles. The sophomore shot an 89 to tie for 23rd overall while tallying a birdie and six pars. Rachel Kim and Katie Zielinski competed as individuals at the event. Kim shot a 90 to tie for 27th place while Zielinski carded a 91 for a share of 31st place.
The Belles look to finish the fall season on a high note when they compete in the final 18 holes of the MIAA End of Season Weekend Jamboree on Saturday beginning at 10:00 a.m.