Belles Tie for Third at Kalamazoo Jamboree
Sammie Averill shot a career-best 79.
Ali Mahoney also shot a 79.
Courtney Carlson (85) and Taylor Kehoe (86) rounded out the team score.
KALAMAZOO, Mich. - The Saint Mary's golf team shot a 329 and finished in a tie for third place at the second of six rounds of conference competition.
Hope placed first with a 316. Olivet was second with a 323, and Saint Mary's and Trine tied for third with matching scores of 329. Alma's Kennedy Hilley was the medalist with a 74 at Milham Park Golf Course.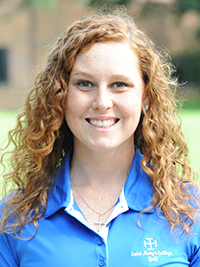 Sammie AverillSammie Averill and Ali Mahoney led the way for Saint Mary's with a pair of 79s to tie with four other golfers for fourth place. The 79 is the lowest score for Averill in her career with the Belles.
Courtney Carlson added an 85 to tie for 18th, and Taylor Kehoe was a stroke behind with an 86 (t-20th) to round out the team score for the Belles. Rachel Kim was the fifth golfer in the lineup and shot an 88 (t-28th) on the day.
The Belles are back in action on Thursday, October 1 when they travel to Grand Rapids for the Calvin MIAA Jamboree starting at 1:00 p.m.