Belles Take Seventh at O'Brien National Invitational
Ali Mahoney shot a career-low 74
The 325 is the best score for Saint Mary's this season
The Belles finished seventh overall
GRANGER, Ind. - The Saint Mary's golf team finished seventh at the O'Brien National Invitational after shooting a season-low 325 on Monday at Knollwood Country Club.
The tournament, which featured nine teams which finished in the top 20 rankings by Golf Stat last year, was won by Wittenberg. The Tigers shot a 299 on day two to end with a tournament record score of 591 for a 25-stroke margin of victory. George Fox claimed second place with a 616 after a 303 today. Texas-Tyler was third with a 632. Wittenberg's Jane Hopkinson-Wood was the individual medalist after tournament records of 68 today and 141 for the event.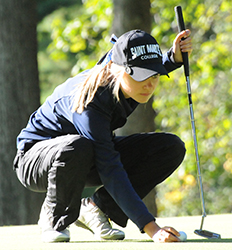 Ali Mahoney shot a career-low 74.The Belles had a two-day score of 653 after rounds of 328 and 325. Ali Mahoney led the team with a career-low 74 and finished in a tie for seventh place overall with a two-day total of 154. The junior had six birdies and was tied for the best par five scoring at the event. Courtney Carlson turned in an 82 for the team's second score of the day. She finished tied for 32nd with a 165 with 20 pars in two days.
Taylor Kehoe and Sammie Averill made up the Belles' team score on Monday as Kehoe shot an 83 while Averill carded an 86. Kehoe finished in a tie for 26th (163), and Averill was tied for 50th (175) at the conclusion of the event. Kaitlyn Cartone was the fifth player in the lineup for Saint Mary's and had an 89 to finish tied for 47th with a 174.
Rachel Kim led the individuals' efforts as she matched her career-low score yesterday with another 86 on Monday to finish tied for 44th with a 172. Katie Zielinski moved up the leaderboard with an 83 for a share of 47th (174).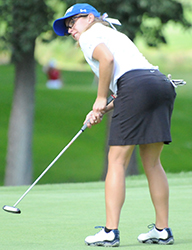 Katie Zielinski posted the low
individual round for the Belles
with an 83.Isabella Speedon showed consistency from day one to day two with another 90 (180, 56th), and Kelsey Conkright finished two places behind in 58th with a 95 (184). Lydia Lorenc turned in a 94 on day two for 59th place overall (185). Patty Meza shaved three strokes off yesterday's score for a 92 and 60th place (187). Courtney Quinlan rounded out the Saint Mary's efforts with an eight-stroke improvement from Sunday's round with a 91 to finish tied for 62nd (190).
The Belles open up conference competitions next Wednesday, September 23 when they participate in the first MIAA Jamboree of the season, which is hosted by Olivet at the Medalist Golf Club starting at 1:00 p.m.