Komisarek to Become Inaugural Lacrosse Head Coach
Contact:
Sarah Miesle
Sports Information Director
Saint Mary's College
Notre Dame, IN 46556
(574) 284-5290

November 7, 2012 (Notre Dame, Ind.)—The Saint Mary's College Department of Athletics has announced that Amy Komisarek will serve as the College's first varsity lacrosse head coach.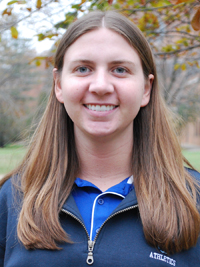 Komisarek comes to Saint Mary's with a range of coaching and educational experience. She has served as the head coach of the Sylvania High School Girls' Lacrosse team and has held assistant coaching positions with the University of Toledo and Siena Heights University lacrosse programs. A Level 1 trainer with the U.S. Lacrosse Coaching Education Program, she teaches lacrosse coaches about the game during their certification process. She has also taught undergraduate students the skills and strategies of the game of lacrosse at the University of Toledo.
"I am excited about the opportunity to create a quality lacrosse program here at Saint Mary's," said Komisarek. "By having the opportunity to work with the club team this season and focus on recruiting, I believe we can and will have a competitive program from the onset."
Komisarek is a 2009 graduate of the University of Toledo. She was a double major in marketing and professional sales and graduated cum laude with a bachelor of business administration. In August 2012, she completed her master's of arts degree with a concentration in organizational leadership from Siena Heights University.
Komisarek started her position on November 5, 2012.
About Saint Mary's College: Saint Mary's College, Notre Dame, Ind., is a four-year, Catholic, women's institution offering five bachelor's degrees and more than 30 major areas of study. Saint Mary's College has six nationally accredited academic programs: social work, art, music, teacher education, chemistry and nursing. Saint Mary's College ranks among the top 100 "Best National Liberal Arts Colleges" for 2013 published by U.S. News. Founded in 1844, Saint Mary's is a pioneer in the education of women, and is sponsored by the Sisters of the Holy Cross.