Belles Downed by Bulldogs
NOTRE DAME, Ind. - The Saint Mary's lacrosse team lost a 20-5 conference game against reigning MIAA champion Adrian at home on Saturday afternoon.
The Bulldogs scored a little over a minute into the game and posted an insurmountable 12-0 lead with 12:13 remaining before the half. Jackie Loesch converted a pass from Lauren Telford to break the Belles' scoring drought and put Saint Mary's on the scoreboard with 10:41 left.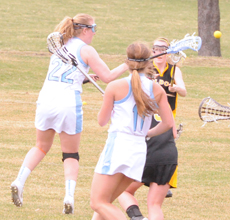 Sarah Neeser scores the Belles' second
goal on Saturday.After two more Adrian goals, Aubrey Golembieski threaded a pass to a cutting Sarah Neeser, who sent a shot into the net from six meters away to make it 14-2. The Bulldogs added a goal in the closing seconds of the first half to take a 15-2 advantage at the break.
The Bulldogs posted the first five goals of the second half to make it 20-2 in their favor. The Belles kept chipping away until the end. Saint Mary's posted three goals over the final five-and-a-half minutes of play. Aubrey Golembieski scored an unassisted goal with 5:11 left and fed a pass across the middle to Tess Guerrero for a goal with 3:21 on the clock. Jackie Loesch added her second goal of the game with 1:36 to go for the 20-5 final as the Belles were outscored in the second period by just a 5-3 margin.
Stephanie Szymas made nine saves in goal for the Belles. Jackie Loesch had two goals on the day for her sixth consecutive multi-goal game. Aubrey Golembieski had a goal and two assists. Sarah Neeser added a goal while leading the team with four ground balls. Tess Guerrero notched her fifth goal of the season for the Belles.
Saint Mary's (1-9, 0-3 MIAA) travel to Olivet for a conference game against the Comets on Wednesday, April 16 beginning at 6:00 p.m.