Belles Bounced by Brits
NOTRE DAME, Ind. - The Saint Mary's lacrosse team lost a 16-6 conference game at home against Albion on Thursday evening.
The Belles showed solid defense early against the Brits, shutting down open lanes and limiting Albion to tough shots throughout much of the opening period of play. The Brits did strike first with a pair of goals through the first six minutes of play, but the Belles came right back to tie the game at 2-2. Tess Guerrero scored with a left-handed shot on a free position attempt ten minutes into the game to make it 2-1. Aubrey Golembieski later picked up a ground ball, ran end-to-end, and scored to tie the game up at two goals apiece.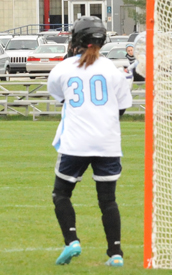 Stephanie Szymas had 11 saves
and six ground balls against Albion.The Brits went on a four-goal run to regain the lead and pull ahead 6-2 with 8:40 remaining before halftime. Saint Mary's won the ensuing draw control, and Aubrey Golembieski fired a close-range free position shot past the Albion goalkeeper for her second goal of the day to make it a 6-3 affair with 8:17 on the clock.
Two minutes later, the Brits regained a four-goal advantage at 7-3. Over the final six minutes of the opening period, both teams' goalkeepers came up with big saves to keep the score at 7-3 at the half.
Albion scored first in the second half with a goal three minutes into the period for the 8-3 lead. After having a pair of free position shots stopped, the Belles broke through after picking up a ground ball on a turnover and translating that into near-instant offense. Shannon Weyer corralled a dropped pass by the Brits in the Belles' defensive end, and Aubrey Golembieski capped off another hat trick 30 seconds later to get the Belles back within four goals of the Albion lead.
The Brits, however, went on a 6-0 run over the next 12 minutes of play to push their lead to a game-high ten goals.
Sarah Neeser tallied a goal at 8:14 and added a second goal with just over two minutes remaining, but the Brits had done their damage with 16 goals in the game to take the 16-6 decision.
Stephanie Szymas made 11 saves in goal while collecting a team-high six ground balls. Aubrey Golembieski scored three goals while picking up five ground balls and leading the team with six draw controls. Sarah Neeser added two goals, and Tess Guerrero tallied a goal for the Belles.
Saint Mary's (2-12, 1-6 MIAA) concludes their season on Saturday, April 26 when they host Alma for a noon conference contest.