Belles Succumb to Falcon Flurry
MEQUON, Wis. - The Saint Mary's lacrosse team fell by a 20-3 final at Concordia University Wisconsin on Saturday afternoon.
The host Falcons started with a big offensive burst to establish a 16-0 lead by halftime. Over the opening stanza, Concordia out-shot the Belles by a 24-2 margin while picking up 27 ground balls to Saint Mary's 13.
The second half was a much different story as the Belles continued to show their resilience.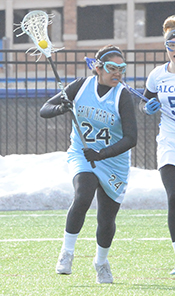 Jackie Loesch led the Belles with
two goals against Concordia
Wisconsin.Aubrey Golembieski got the Belles on the scoreboard with a man-up goal less than seven minutes into the second period. Less than a minute later, Jackie Loesch added a goal of her own to make it a 16-2 contest with 22:34 remaining on the clock.
The Falcons got a goal back a minute later, but the Belles' defense locked Concordia's offense down for the next 12 minutes to keep it a 17-2 affair. The Falcons added another goal to the scoreboard with 8:15 left in the contest, but Loesch struck again with an unassisted effort on the left side of the goal.
Concordia closed out the game with two goals over the final 5:35 for the 20-3 final.
Saint Mary's out-shot the Falcons by an 11-10 margin over the second period of play.
Stephanie Szymas made three stops in goal before Tess Guerrero added three saves in 45 minutes in goal for the combined netminding effort. Golembieski and Sarah Neeser each had four ground balls, and Neeser led the team with five draw controls.
The Belles (0-6) return to action on Sunday, March 30 when they host Illinois Institute of Technology in the program's first-ever home game starting at 1:00 p.m.