Offensive Outburst Propels Belles to Program's First Win
NOTRE DAME, Ind. - A season-high 16 goals was more than enough for the Saint Mary's lacrosse team to pick up the first win in program history as the Belles defeated Illinois Tech 16-4 at home on Saturday.
The Belles established a quick 2-0 lead against the Scarlet Hawks on a pair of Aubrey Golembieski goals within a minute of each other. Golembieski got the Belles on the scoreboard six minutes into the game and added her second goal off of a pass from Sarah Neeser less than a minute later.
The Scarlet Hawks evened the score with back-to-back goals, knotting the score at 2-2 with 20:29 left in the opening half.
Determined to win their home opener, Saint Mary's regained the momentum for good with an 8-0 run to close out the half and take a 10-2 advantage at the break.Golembieski completed the hat trick to regain the lead for the Belles while Tess Guerrero, Emilie Vanneste, Sarah Neeser, Jackie Loesch, and Lauren Telford all registered goals. During that run, Golembieski tallied two goals while Vanneste recorded her first two goals of her career.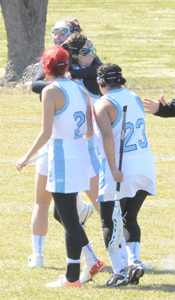 The Belles celebrate Colleen
Conway's goal in the second half.That offensive onslaught continued in the second half as Saint Mary's recorded the next six goals of the game to make it a 14-0 run. Cathy Baxter scored just 15 seconds off the opening draw of the half. Loesch added a second goal, Vanneste completed her first hat trick of her collegiate career, and Golembieski added her second consecutive game with five goals.
With 11:36 to go in the game, Colleen Conway broke through for her first collegiate goal. Two minutes later, Vanneste capped off the Saint Mary's scoring with her fourth goal of the game to put the Belles up 16-2.
The Scarlet Hawks scored a pair of goals in the final seven minutes of play, but the Belles' lead was too commanding as Saint Mary's claimed the 16-4 victory.
The Belles out-shot the Scarlet Hawks 40-18, picked up 33 ground balls to Illinois Tech's 23, and successfully converted 15 of 18 clear attempts.
Stephanie Szymas earned the goalkeeping win for the Belles while playing all 60 minutes and notching seven saves.
Aubrey Golembieski led all players with five goals and eight draw controls while picking up five ground balls. Emilie Vanneste had four goals, an assist, and three caused turnovers in the first game of her career. Jackie Loesch chipped in two goals.
Lauren Telford, Cathy Baxter, Colleen Conway, Sarah Neeser, and Tess Guerrero each added a goal for the Belles in the win.
Saint Mary's (1-7) returns to conference action on Tuesday, April 8 when they travel to Hope for a 6:00 p.m. contest against the Flying Dutch.