Belles Sunk by Comets
OLIVET, Mich. - The host Comets closed out the first half with four goals in-a-row, and the Saint Mary's lacrosse team was unable to come back from the deficit as the Belles lost a 12-9 conference contest at Olivet on Wednesday night.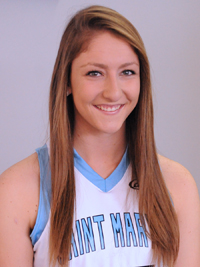 Emilie Vanneste led the Belles with
four goals and two assists.The first half was closely played through the first 20 minutes. Olivet claimed a 2-0 lead, but the Belles evened the score at 2-2 with a pair of Emilie Vanneste goals within a minute and a half of each other in the seventh and eight minutes of play.
The Comets regained the lead with a pair of free position shots book-ending an unassisted effort to take a 5-2 advantage with 17:30 remaining in the opening period. Jackie Loesch and Sarah Neeser got the Belles back in business with unassisted goals to make it a 5-4 game with more than 10 minutes left on the clock.
Olivet, however, closed out the half on a 4-0 run, including a pair of free position goals, to take a 9-4 advantage at the break.
The score remained 9-4 in favor of the Comets until Olivet netted their sixth free position goal of the contest a little over 11 minutes into the second half.
The Belles continued to fight their way back into the game. Vanneste fed a pass to Loesch for a goal at 16:57 to make it 10-5. Six minutes later, Vanneste notched back-to-back goals again for the Belles to cut the lead to 11-7 with 10:23 to go. Sarah Neeser added her second goal of the game off of a pass from Vanneste to make it an 11-8 affair with just over seven minutes remaining, forcing the Comets to take a timeout.
Saint Mary's won the ensuing draw control and got a shot off that went wide. After forcing an Olivet turnover and getting the ball back, the Belles had another look at making it an 11-9 game only to see a shot get blocked and a second shot get saved.
The Comets converted their seventh free position opportunity of the day to push their lead to 12-8 with 3:27 remaining. Lauren Telford won the next draw control, and Sarah Neeser scored 45 seconds later to make it 12-9. But the clock ran out on the Belles' comeback effort as the Comets claimed the 12-9 final.
Emilie Vanneste led the Belles with four goals on just four shots while adding two assists. Jackie Loesch and Sarah Neeser each scored a pair of goals. Cathy Baxter chipped in a goal of her own. Aubrey Golembieski had five draw controls, and Stephanie Szymas tallied 15 saves in goal.
The Belles (1-10, 0-4 MIAA) return home to host Trine on Friday, April 18 for a noon conference contest against the Thunder.