Student Profiles
Winning Spirit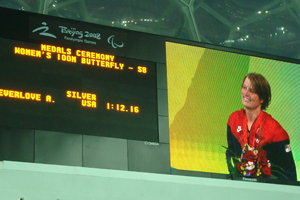 Amanda Everlove started her first year at Saint Mary's with a major feat to her credit—appearing in the 2008 Paralympics in Beijing, China. Amanda won three silver medals and set a world record in swimming. Prior to that she participated in the ParaPanAmerican Games in Rio de Janeiro, in 2007, winning one gold and four silver medals. She hopes to bookend her college career with another successful appearance at the next Paralympics. "I'm currently on the national team and hope to make the team that the United States is taking to London in 2012," says Amanda.
The chemistry major says she wanted to attend a small school where she could explore engineering, as well as swim and compete. "Saint Mary's gave me that and more."
Amanda suffered an injury from a horseback riding accident that left her right arm paralyzed. Today she competes on the Saint Mary's Swimming and Diving team, and as a member of the U.S. team competing at the Paralympic Games. Amanda explains the Games as, "...sport events for elite athletes with a physical disability. They are designed to emphasize the participants' athletic achievements, not their disability. The Paralympic Games take place in the same year as the Olympic Games, and use the same venues."
Amanda lived in Colorado Springs last year, training for the Paralypics. "Living there among the Olympians and Paralympians was one of the best experiences of my life," she says.
With her focus on balancing swimming with schoolwork, Amanda looks to a future that could incorporate chemistry with her athletic background. Not wanting to limit herself, Amanda says, "Currently I'm interested in the drug testing process, especially drug testing athletes."
Regardless of what she chooses to do, she'll be prepared with her Saint Mary's education. "I picked Saint Mary's because I thought they would best be able to help me pursue my goals. Saint Mary's has an amazing chemistry department, and I'm very excited to learn from them."
Team Spirit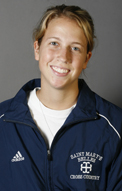 "Being able to have a student–teacher relationship was very important to me." So says Alicen Miller, senior chemistry major and co-captain of the Saint Mary's Cross Country team. When Alicen was considering Saint Mary's in high school, the College's small class sizes (now an average of 16 students per class) and great chemistry program clinched the decision for her. Now this future MD or PhD—she hasn't decided which—is in her last year as a chemistry major.
Alicen's interest in chemistry sparked in high school, when a beloved teacher introduced her to the subject. The Fishers, Ind., native now has a mentor at Saint Mary's—Professor Dorothy Feigl. "She is an incredible teacher," says Alicen. "The past two years, I have worked for her prepping all the organic chemistry labs. We've established a great relationship." That relationship has carried through to Alicen's senior year. She is now working to complete her advanced writing requirement, and Feigl is her advisor for the project. "I'm excited to work with her on another level, and learn even more from her," says Alicen.
But Alicen isn't just a chemistry buff. This year she is helping lead the Cross Country squad to victory on the trails. "The Cross Country team is like my family on campus," she says. "We push each other through workouts, encourage each other through races, and have fun with team bonding activities." Though she doesn't have a lot of free time, Alicen's extracurricular activities stretch beyond running to volunteering. She helped reinstate the Circle K club on campus; she volunteers with the award-winning Dance Marathon program; and she is involved with SMAACS.
SMAACS stands for Saint Mary's Affiliates of the American Chemical Society. Alicen is the club treasurer this year. The position is a chance for her to give back to a campus department that has given her so much. "The whole chemistry department has been unbelievably supportive," Alicen says. "I love the challenge of the subject, the small class sizes, and the hands-on learning that comes with the labs."
Alicen's words are testimony to the significance of working with dedicated professors like Feigl. Her tone is reflective, as she looks forward to her professional future, and savoring her last year at Saint Mary's. "Every class and experience has taught me new things and expanded my horizons," says Alicen. "I will walk away a more confident woman, with the skills to achieve whatever I want."
For more about the chemistry major at Saint Mary's, read about alumnae Ellen Jacqueline Higgins '02 and Mackenzie McGee '03.