Student Profiles
Doing the Numbers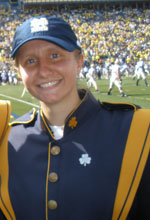 With all the activities junior Ashley Crish is involved in, you would think she's bitten off more than she can chew. But this Strongsville, Ohio, native is simply employing her excellent time management skills. And she's about to see the fruits of her labor. Ashley is not only pursuing a Bachelor of Science degree in computational mathematics from Saint Mary's, but also a Bachelor of Science degree in computer engineering at Notre Dame through the five-year dual degree engineering program.
"Saint Mary's dual degree program with Notre Dame was perfect since it combined mathematics and computer science at Saint Mary's with engineering at Notre Dame. The program is really the best of both worlds as I have the opportunity to study and learn both at a small college in the liberal arts tradition and a larger research institution," says Ashley.
Ashley loves the challenges that mathematics brings to the table, and enjoys taking math classes. Professor Joanne Snow, department chair of mathematics, has been an influential professor who has helped Ashley to achieve her dreams. "Dr. Joanne Snow is an excellent professor and expects a lot from all her students," says Ashley. "I've taken three of her classes and each time she's challenged me to do my best inside and outside of the classroom. I know she supports me and genuinely cares about my success."
Though Ashley is busy with her academics, she still finds time to participate in several extra-curricular activities. She enjoys playing the clarinet in the Notre Dame Marching Band, as well as in the Notre Dame Varsity Band and Clarinet Choir. Ashley makes time for other activities as well, including the Saint Mary's College Society of Women Engineers, of which she is co-president.
"Participating in the Notre Dame Band has been such an awesome experience and I've made friendships that will certainly last a lifetime. Through the Society of Women Engineers I've found support and friendship from my fellow Saint Mary's Engineers. There are less than three-dozen of us at Saint Mary's and we have formed our own community to support one another throughout the five-year program," says Ashley.
Ashley aims to complete her engineering degree at Notre Dame after she graduates from Saint Mary's. She then plans to pursue a Master's degree in either mathematics or engineering.
—Alicia Smith '12