Nursing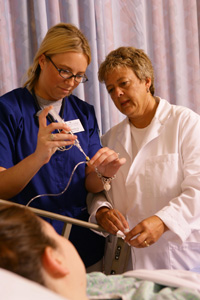 As a nursing major, you will acquire the scientific background and clinical skills to prepare for top-level positions in your field. The baccalaureate degree in nursing at Saint Mary's College is accredited by the Commission on Collegiate Nursing Education (CCNE) and the Indiana State Board of Nursing, and taught by expert faculty dedicated to helping you succeed. The nursing program is also a member organization of AACN (American Association of Colleges of Nursing).
Nursing majors follow a rigorous four-year program of study, including liberal arts and professional nursing courses, as well as valuable, hands-on clinical experience. An emphasis is placed on the sciences, primarily chemistry and biology. Training emphasizes leadership ability, respect for the spiritual dimensions of health care, and a solid foundation in the liberal arts.
"I truly believe the Saint Mary's nursing program prepared me for not only my career but also my life. I would not trade my education for any other. It was more than a college, it was—and is—my home." —Angela Kelly
Writing in the Major
Advanced writing proficiency is evaluated within the major during your senior year. A designated course paper is submitted for review and is evaluated for demonstration of professional writing proficiency. The Department of Nursing requires use of the current style manual of the American Psychological Association for all course assignments as well as the advanced writing proficiency paper.
Senior Comprehensive Examination
The senior comprehensive examination is typically administered during the final semester of the senior year. The exam is computer-based, simulating the NCLEX-RN licensure examination.
Hands-on Learning
The Saint Mary's nursing program offers you unique opportunities to develop real-world skills. You gain valuable clinical experience under the supervision of qualified faculty members in small classes. Clinical learning begins as a sophomore, and continues through your senior year in hospitals, long-term care facilities, health departments, and community settings.
Additionally, many opportunities for experience outside of the classroom environment are available to you. Faculty members work with juniors and seniors interested in applying for externships. Julianne Miller was awarded a summer externship in cardiovascular and vascular surgery at the University of Michigan. Others have undertaken externships at the Mayo Clinic, UCLA Medical Center and Case Western Reserve MetroHealth System.
Careers
Upon graduation, students who earn the Bachelor of Science with a major in Nursing degree prepare to take the National Council of Licensure Exam (NCLEX-RN) for licensure as registered professional nurses. The most class of 2012 had a 100% pass rate - all grads were successful on their first try. Thanks to exceptional training and the high demand for nurses, a broad range of opportunities will be available to you both in graduate education and in the nursing profession.