Alumnae Profiles
Report From Haiti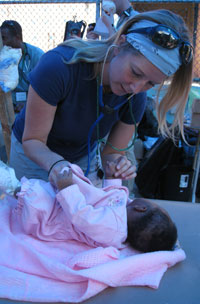 Children are dear to alumna Page Warstler Steadman's heart. The 2001 nursing graduate works for Children's Memorial Hospital in Chicago with the division of cardiothoracic surgery. She cares for children with congenital heart defects who require open heart surgery or heart transplants. Steadman took a two-week trip to Haiti after a major earthquake took place there a few years ago. She worked to help victims and witnessed the amazing resilience of the Haitian people.

Steadman saw over 80 patients on her first day in Haiti. People came to her with wounds and fractures, dehydration and the beginnings of disease due to lack of sanitation. She worked with other healthcare personnel in makeshift tents and even traveled to the countryside to treat children at several orphanages.

It was, Steadman says, "a very difficult but extremely rewarding trip." Steadman brought to it a heart filled with compassion, the know-how to get the job done, and a desire to make a difference. That quality was reinforced during her studies at Saint Mary's. "Saint Mary's not only stressed the importance of academic excellence, but the social responsibility we have to the global community we live within to do good," she says.

As a nursing student, Steadman appreciated Saint Mary's holistic approach to healthcare. The program emphasizes treating the whole person—body, mind, and spirit. Now, she applies that same ethic in the workforce. "Whether it is through education and explaining things to patients and families, providing comfort, or through medical interventions, I am lucky to be able to do what I do," she says.

Steadman's skill and knowledge coupled with her compassionate heart make a significant impact in her patients' lives. She believes strongly in providing good medical care to all people, both in the U.S. and abroad. It's this belief that led her to Haiti after the earthquake. While examining, bandaging, and handing out food, Steadman says she was "overwhelmed by the strength and beauty" of the Haitian people. She recalls a six year-old boy whom she treated taking her hand before he left, kissing it, and saying simply, "Merci."

The Haitian people's sense of gratitude and concern for each other are what impressed Steadman most during her stay. The people reinforced her feeling of duty to the global community, one that she is happy to fulfill each day at the hospital. She says, "I feel truly blessed that every day I go to work I am able to make a difference in someone else's life."
Summer of Service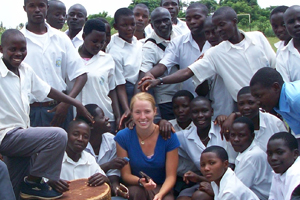 Fort Wayne native Caitlin Brodmerkel didn't put her books away and head home for the summer before her senior year. Instead, she packed up and headed to Uganda where she spent over two months working with the Holy Cross Congregation. While in Uganda, she lived in the rural village of Kyarusozi, working with the Sisters of the Holy Cross at their health clinic. She also had the opportunity to teach health science at St. Joseph's Secondary School, a school run by the Brothers of Holy Cross. "It didn't take long for me to fall in love with the culture of rural western Uganda," says Brodmerkel. "The people are friendly and full of life, and their faith and spirits are moving. The children filled my days with such great joy. I quickly learned to appreciate the simplicities in life, and not take those for granted."
Brodmerkel worked in a clinic that was the only clinic for miles. Likewise, the school she taught in was the only secondary school for miles. "The students walk hours to receive the Catholic education offered," explains Brodmerkel. As a nursing major with a minor in biology, Brodmerkel came qualified to work both in the clinic and the school. She says that Saint Mary's helped prepare her for this experience through her nursing clinical, and science classes. "I was thankful for this tremendous education each day as I witnessed problems at the clinic, and in teaching health science to my students," says Brodmerkel.
Brodmerkel says Saint Mary's also gave her opportunities to experience diversity, working with local organizations like Sister Maura Brannick Health Center, St. Margaret's House, and Marquette Primary. She also participated in the University of Notre Dame's Appalachia service trip, and a Saint Mary's study abroad program in Ecuador. "These experiences have all been very important to me and have shaped who I am today," says Brodmerkel
Brodmerkel says she chose to come to Saint Mary's because she loved the small Catholic community that the College offers. She also appreciates the opportunity to run cross country, and attain a degree in nursing. Brodmerkel sums up the Saint Mary's experience: "The best part about being a student here has definitely been the people I have met and the learning opportunities I have had. Friends, classmates, professors, and staff are all a part of what makes this College amazing." She is now working full-time as a nurse at St. Francis Hospital while enrolled in the nurse practitioner graduate program at the University of Indianapolis.
Oops! It seems that you do not have the most current version of the Adobe Flash Player.
Please click here
to download it.****************************
New Heights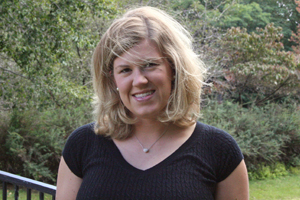 Nursing alumna Margaret Lindley '08 says she always wanted to be a nurse because it fit her personality well. She was also inspired by the great nurses who treated her when she was sick as a child. "I started to admire their work and knew that I wanted a job where I could help people and make a difference in their life," says Lindley.

After graduation, she obtained her nursing license and was commissioned as a 2nd lieutenant in the United States Air Force. Lindley is assigned to the Nurse Corps, working at Landstuhl Army Regional Medical Center in Germany as a medical-surgical nurse.
While at Saint Mary's, Lindley was a cadet in the Air Force Reserve Officers' Training Corps (ROTC) at the University of Notre Dame. One summer, she had the chance to participate with 15 other students from around the country in a two-week cultural immersion program in Turkey. "During our stay there was a bombing in the city. Thankfully we were all safe but it did teach us situational awareness," says Lindley.
Lindley says one of the major cultural differences between Turkey and the U.S. is the treatment of women. "At Saint Mary's we are taught to be independent proactive leaders. However, Turkey is a Muslim country, and women have a different role. I rarely saw women walking around alone; they were usually accompanied by men," explains Lindley. "When I went into mosques for the very first time, I had to wear a head scarf. All the women on my trip had to do this. We also had to make sure that our shoulders were covered and our legs were covered past our knees–a new concept for me!"
Lindley also spent a month that summer participating in the in Air Force ROTC's Nurse Orientation Program at Wilford Hall Medical Center on Lackland Air Force Base in San Antonio, Tex. "It was a great way to learn about different types of nursing and to help me decide what kind of nurse I want to be. I got first hand experience in a military hospital and learned about the difference between military and civilian nursing," says Lindley.
Lindley says that she chose Saint Mary's because she knew several alumnae who were very successful after graduation. "Saint Mary's offered everything I was looking for–a small, personalized community atmosphere, a nursing program, good distance from my home, financial assistance, and advantages of Notre Dame," says the native of Naperville, Ill.
Lindley's educational experience at Saint Mary's was aided by financial assistance through the College. "Saint Mary's is worth every penny I have paid. Education is priceless and I consider it an investment in my future. The financial aid package offered to me at Saint Mary's was influential in my decision to attend the school. I think there is a major advantage of attending a small, private, Catholic institution and I do not regret my decision."
Helping Heart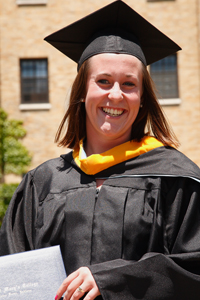 Saint Mary's alumna Erin Hogan is all heart when it comes to knowing what she wants to do in life. The 2008 graduate and former class vice-president is working in Chicago as a registered nurse at Hope Children's Hospital in the Pediatric Surgical Heart Unit. Her interest in nursing stemmed from something close to her heart—the illness of a close family friend, Elizabeth, who was born with a congenital heart defect. "Spending time with Elizabeth and watching her live through three open heart surgeries, I fell in love with pediatric cardiology. The idea that I could be apart of that same team that saved Elizabeth and essentially fix the 'broken' hearts of children is incredible," says Hogan.
The nursing grad says her mother often jokes that Hogan knew that Saint Mary's was the place for her after their first drive down The Avenue. "After visiting campus and extensively researching the nursing program here at Saint Mary's, I was convinced that Saint Mary's was the perfect fit for me," says Hogan. Saint Mary's nursing program is one of six nationally accredited programs.
Hogan has a heart for volunteering both at Saint Mary's, and in the community, having volunteered at Holy Cross Convent, the Center for the Homeless, St. Margaret's House, and Rebuilding Together as a team leader, just to name a few. She was a peer minister, and a member of Friends with Sisters, the Student Nurses Association, the Nursing Pinning Planning Committee, and the Commencement Committee.
As a nursing major, Hogan found her community health nursing class to be the best, "hands down," giving credit to professor Ella Harmeyer. "She is an unbelievable woman who has opened the eyes of many, including myself to the world of public health and community based nursing."
When it came to balancing academic and civic life, Hogan looked to Carrie Call, psychology lecturer and Director of the Office for Civic and Social Engagement (OCSE) as a role model who helped her to keep things in perspective, and as one who pushed her to extend herself beyond her comfort zone. "I am confident that without her I would not be the woman I am today," says Hogan.