Social Work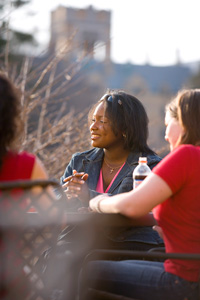 Social work courses will teach you how to apply problem-solving techniques to help people navigate social systems and improve their lives. Through the field education component—a supervised internship in your senior year—you will experience the profession first-hand and learn more about your interests to help you plan your career.
Nationally accredited by the Council on Social Work Education (CSWE), the program provides a professional curriculum based on national standards. The social work major not only prepares you for employment in social work practice, but also provides you with the opportunity for advanced placement in Master of Social Work (M.S.W.) programs, as well as access to licensure in the state where you wish to practice.
"Saint Mary's inspired me to make a difference in the world and prepared me to excel at a highly competitive graduate school. I am proud to have been a part of this community and remain attached to it through the life-long friends I made there." —Anne Rueth '06
Writing in the Major
Your work as a professional social worker will be enhanced by your ability to communicate effectively and to analyze social issues through a critical and comparative perspective. To fulfill the College's advanced writing proficiency requirement, each student is evaluated through materials presented during her senior year.
Senior Comprehensive Examination
As a senior, you will be required to demonstrate your competency in the required curriculum areas by presenting your senior comprehensive portfolio.
Hands-on Learning
Field education is a key component of the Saint Mary's social work program curriculum. Working with the field practicum coordinator, you will learn more about yourself, your interests, and your skills, enabling you to better focus your career objectives. Regional field placements are made over the course of two semesters in the senior year. In these placements, you will be working with agencies such as the YWCA, South Bend Community School Corporation, local hospitals, or Child Protective Services, two days per week. National field placements will put you in the field four to five days per week in the spring semester.
Past social work majors have also participated in immersion experiences overseas and around the United States. Accompanied by Professor JoAnn Burke, social work students traveled to El Salvador to explore a different reality and learn how women advocate for the poor and marginalized.
Careers
You will be prepared for a variety of social work professions. Social work is a profession much in demand and employment for social workers is expected to grow faster than the average for all occupations through 2018. Saint Mary's graduates are pursuing careers in a multitude of areas: administrative positions in federal, state, or non-profit agencies; clinical social work positions; school social work; international, national, and local policy and advocacy; research; and social work education. Child welfare, gerontology, health care, public welfare, and forensic social work offer you additional career opportunities.