Social Work Major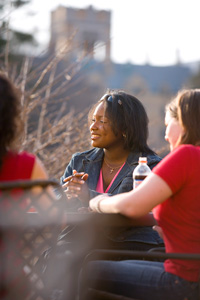 Turn your passion for the wellbeing of others into a calling. Develop a holistic perspective on human behavior, social life, and cultural systems. Apply problem-solving techniques to help people navigate social systems and improve their lives.
The Experience
The program is nationally accredited by the Council on Social Work Education (CSWE) and provides a professional curriculum based on national standards. Field education is a key component of your experience. Working with the field practicum coordinator, you learn more about yourself, your interests, and your skills, enabling you to better focus your career objectives. Regional field placements are made over the course of two semesters in your senior year. In these placements, you work with agencies such as the YWCA, South Bend Community School Corporation, local hospitals, or Child Protective Services, two days per week.
The Requirements
The program prepares you for employment in social work practice, and provides you with the opportunity for advanced placement in Master of Social Work (MSW) programs, as well as access to licensure in the state where you wish to practice. In your senior year you demonstrate your understanding of the subject and competency with the senior comprehensive portfolio.
The Writing
Your work as a professional social worker is enhanced by your ability to communicate effectively and to analyze social issues through a critical and comparative perspective. To fulfill the College's advanced writing proficiency requirement, you are evaluated through materials presented during your senior year.
The Results
Employment for social workers is expected to grow faster than the average for all occupations through 2026. Our graduates are pursuing careers in a multitude of areas: administrative positions in federal, state, or non-profit agencies; clinical social work positions; school social work; international, national, and local policy and advocacy; research; and social work education. Child welfare, gerontology, health care, public welfare, and forensic social work offer you additional career opportunities.