Alumnae Profiles
Good with numbers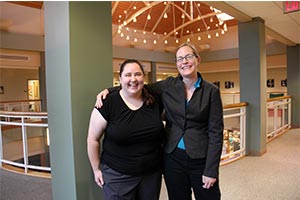 Gina Deom '13 and Kristin Kuter, professor
of mathematics share a laugh inside the Student Center.
"I was one of those people that knew Saint Mary's College was right for me as soon as I stepped on campus for a visit. I loved the sense of community that the campus provided and the small class sizes," says statistical and actuarial mathematics major Gina Deom '13. And now that she's graduated and attending graduate school at Bowling Green State University, she's even more sure Saint Mary's was the right decision for her. She's gathered internship experience, written a major report, and gained the confidence to do her best.
Gina is co-author of Saint Mary's Status of Girls in Indiana 2013 report, which collates demographic, abuse, health, and education information about girls age 8-14 in Indiana. Gina and Dr. Kristin Kuter, statistical and actuarial mathematics professor, did much of the research and wrote the report. Released to the public in September 2013, the report can be used by politicians and advocacy organizations to make informed decisions about the future of Indiana's girls. "I am one of few students in my major in graduate school that has written a mathematics paper, let alone a paper of such magnitude and analysis," she says. "The mathematics curriculum at Saint Mary's is very challenging and pushes you to not only be good at doing mathematics but also to be able to communicate mathematics to others in writing and speech."
She traveled to the Joint Mathematics Meetings two years in a row, in Boston and San Diego, where she shared her research from the Maryjeanne R. Burke and Daughters Pretenure Faculty Student Independent Study and Research (SISTAR) grant she did with Professor Kristin Kuter, which was also part of the report. She participated in two internships, one analyzing survey data for Saint Mary's Department for Institutional Research and the other at Press Ganey Associates in South Bend as a custom research and analysis intern. She credits her senior comprehensive project (a spin off of the research she did for the report) along with her internships and trips to conferences with giving her the practice and confidence necessary for a smooth transition to grad school.   
As it turns out, that first impression Gina had of campus was spot on. It's these kinds of experiences during her college years at Saint Mary's that makes Gina confident she'll achieve her goals. "If I could go back, I would make the same decision. I could not have asked for a better education and support system."