Apollo Style Talent Showcase to Present Saint Mary's and IUSB Talent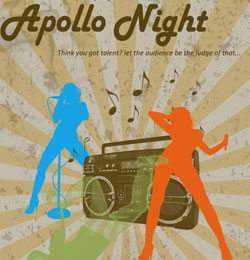 In celebration of African American Heritage Month, the Saint Mary's College student club Sisters of Nefertiti and the IU South Bend Black Student Union will host the "Apollo Style Talent Showcase" at 7 p.m. on Wednesday, Feb. 13 at Saint Mary's in Carroll Auditorium, Madeleva Hall. The talent show is inspired by amateur night held at the famous Apollo Theater in Harlem. Students from both schools will perform a variety of talents, which could range from poetry to dancing to singing. The audience may either applaud or boo someone off stage (in good fun). The event is free and open to the public. Click for a campus map.
The student performers will compete for Dr. Dre headphones and a Kindle. Audience members can also win prizes, ranging from gift cards to Strikes and Spares, Family Video, and Best Buy.