"Let's Talk About It: Muslim Journeys," Reading & Discussion Series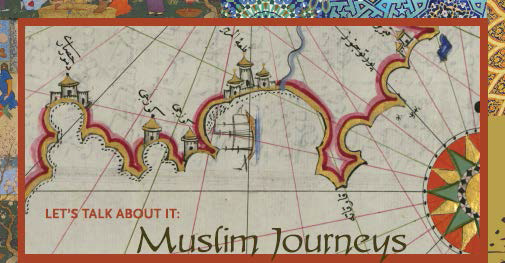 The Cushwa-Leighton Library at Saint Mary's College is proud to present "Let's Talk About it: Muslim Journeys" a Connected Histories reading and discussion series made possible through the National Endowment for the Humanities in cooperation with the American Library Association. The public is invited to participate in this event free of charge.
Scholar-led discussions on five books will be held on the top floor of the library from 4 to 5:30 p.m. on the third Wednesday of October, November, February, March, and April. Laura Elder, assistant professor of global studies and intercultural studies, will frame each months' book in the context of the theme "Connected Histories"  and lead the discussion. 
Book Titles and Discussion Dates:
When Asia was the World: Traveling Merchants, Scholars, Warriors, and Monks who Created the "Riches of the East" by Stewart Gordon, October 16
The House of Wisdom: How Arabic Science Saved Ancient Knowledge and Gave Us the Renaissance by Jim Al-Khalili, November 20
The Ornament of the World by Maria Rosa Menocal, February 19
Leo Africanus by Amin Maalouf, translated by Peter Sluglett, March 19
In an Antique Land by Amitav Ghosh, April 16
Please contact librarian Suzanne Hinnefeld by email or (574) 284-5289 to register and check out a copy of the books.