South Bend Chamber Singers' 25th Anniversary Dinner/Concert (RESERVATIONS BY OCT. 15)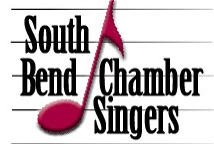 The public is invited to a dinner and concert celebrating the South Bend Chamber Singers' 25th anniversary. The event will take place at Saint Mary's College on Saturday, Oct. 26. The event will begin at 6 p.m. in the Student Center Lounge with cocktails and a champagne toast followed by dinner in the adjoining Noble Family Dining Hall. Click for a campus map.
Saint Mary's College President Carol Ann Mooney will offer a welcome before dinner. Other speakers include Maestro Tsung Yeh of the South Bend Symphony, Stephen Drendall, a 24-year member of the South Bend Chamber Singers, and Saint Mary's College music professor Nancy Menk, founder and conductor.  
The evening will include a video retrospective tracing the highlights of the past 25 years, and a short concert by the singers, including alumnae from past seasons, will close out the evening.  The dinner is not a fundraiser, but a celebration of magnificent choral music.
Admission to the event is $45 per person. The reservation deadline is Tuesday, Oct. 15. Click for information on the menu and how to mail in your reservation.
The South Bend Chamber Singers is an ensemble-in-residence at Saint Mary's College.