Madrigal Dinners to Ring in Holiday Season for 39th Year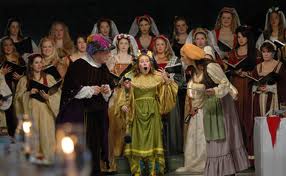 Contact:
Gwen O'Brien
Director of Media Relations
Saint Mary's College
Notre Dame, Ind.
(574) 284-4579
November 4, 2011 (Notre Dame, Ind.)—The Saint Mary's College Department of Music is proud to present its 39th annual Madrigal Dinners, a Renaissance-style holiday feast and performance. Performances will be held in the North Lounge of Regina Hall on Friday and Saturday, December 2-3, at 7 p.m. and on Sunday, December 4, at 2 p.m. Click for a campus map.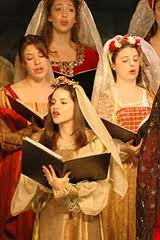 Guests will enjoy entertainment provided by colorfully attired singers, instrumentalists, jugglers, a jester and a lord of the manor. The Madrigal Singers consist of students selected from the Saint Mary's Women's Choir. The Cortland Consort, instrumentalists under the direction of Sandy Rhein, will accompany the singers. Dining Services (Sodexo) serves a feast featuring prime rib (Cornish game hen at the matinee), roasted potatoes, glazed carrots, winter salad and wassail (Christmas punch). The children's meal features chicken tenders and French fries. The grand finale of the meal is cheesecake with flaming cherries.
The event features a festive holiday atmosphere that gets the holiday season off to a merry start, according to the event's organizer. "A residence hall lounge is transformed into a beautiful banquet hall with candlelight and decorations. Some people come every year because they say their Christmas season wouldn't be the same without it, and it sets the tone for the holiday to come," said Nancy Menk, professor of music, director of choral activities, and the Mary Lou and Judd Leighton Chair in Music. Menk has conducted the Madrigal Dinners at Saint Mary's College for 28 years.
Adult admission is $42 for the evening performances and $37 for the matinee. Admission for children 12 and under is $17. Tickets must be purchased in advance by visiting moreau.com, going to the box office located in the lobby of O'Laughlin Auditorium, Moreau Center for the Arts, or by calling (574) 284-4626.
About Saint Mary's College: Saint Mary's College, Notre Dame, Ind., is a four-year, Catholic, women's institution offering five bachelor's degrees and more than 30 major areas of study. Saint Mary's College has six nationally accredited academic programs: social work, art, music, teacher education, chemistry and nursing. Saint Mary's College ranks among the top 100 "Best National Liberal Arts Colleges" for 2012 published by U.S.News and World Report. Founded in 1844, Saint Mary's is a pioneer in the education of women, and is sponsored by the Sisters of the Holy Cross.