South Bend Toymaker Exhibits Handmade Wooden Toys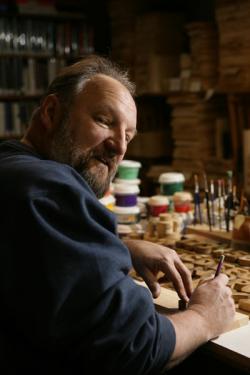 Toymaker George Efta, pictured here in his
South Bend workshop.
Contact:
Gwen O'Brien
Director of Media Relations
Saint Mary's College
Notre Dame, Ind.
(574) 284-4579
November 23, 2011 (Notre Dame, Ind.)—The lobby of the Cushwa-Leighton Library at Saint Mary's College will soon look a bit like Santa's workshop. The handcrafted wooden toy collection of South Bend toymaker George Efta will be on display from December 6 through January 31. The exhibit is simply called "Toys". Efta is recognized as one of the nation's foremost craftsmen of wooden toys and puzzles. His collection includes his own works as well as handmade toys by other artists. It is his first public exhibit. An artist's reception in planned for Monday, December 12 from 4:30-6 p.m. in the library. The public is invited to attend.

Robert Hohl, librarian and curator of the exhibit, said of the display, "What is more representative of the Christmas Spirit than a handmade toy? The library is delighted to host George Efta's toys in celebration of the season, remembering the classic lyrics of 'Toyland' by Victor Herbert, 'Toyland, toyland; Little girl and boy land; When you dwell within it, You are ever happy there!'"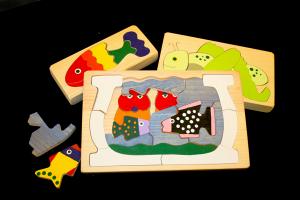 Efta is known for his puzzles, some of which are
double-decker. See the cat puzzle beneath the fish
bowl pieces?
Efta explains his passion for making the toys as almost spiritual. "When I'm working in the workshop, it centers me. It's very Zen-like. You have to focus on what you're doing," said Efta, who is married to Saint Mary's College President Carol Ann Mooney.
Efta says he started making toys in 1973 after graduating from the University of Notre Dame in 1972. The idea came to him after stumbling across a toy store in a Minnesota mall with wooden toys displayed in the window.
"I thought to myself, I can do that," Efta said. "And I couldn't. But about three months later, I was actually making toys."
All of Efta's pieces are crafted from wood. He has made cars, planes, and other mobile toys but now is primarily focused on producing colorful tray puzzles, some of which are double layered.
"There's something neat about starting with a stack of wood and transforming it into something I can sell."
Efta designs, crafts, and sells all of his work, participating in art fairs across the country.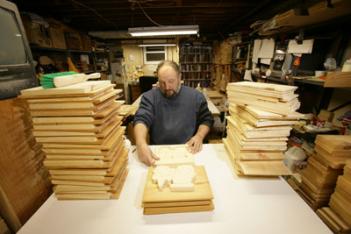 Efta at work in his workshop.
"What really intrigues me is the whole range of toys and things that are childlike," Efta said. "I have pieces from France, Egypt, Italy, England, and other countries. Toys are universal."
The exhibit is free and open to the public as well as the Saint Mary's community and can be viewed during regular library hours. Click for library hours. Click for a campus map.
"When people ask me how long it takes to make one of my puzzles, I tell them thirty-five years," Efta said. "I'm always learning something new."
Anyone interested in purchasing some of Efta's work may contact Gwen O'Brien, director of media relations at Saint Mary's College at gobrien@saintmarys.edu or (574) 284-4579.
About Saint Mary's College: Saint Mary's College, Notre Dame, Ind., is a four-year, Catholic, women's institution offering five bachelor's degrees and more than 30 major areas of study. Saint Mary's College has six nationally accredited academic programs: social work, art, music, teacher education, chemistry and nursing. Saint Mary's College ranks among the top 100 "Best National Liberal Arts Colleges" for 2012 published by U.S.News and World Report. Founded in 1844, Saint Mary's is a pioneer in the education of women, and is sponsored by the Sisters of the Holy Cross.